March is Women's History Month
March is Women's History Month and the Coaliiton of Labor Union Women is very proud to be celebrating this event as well as our 40th Anniversary. We are proud of the accomplishments that have been made by women of Organized Labor.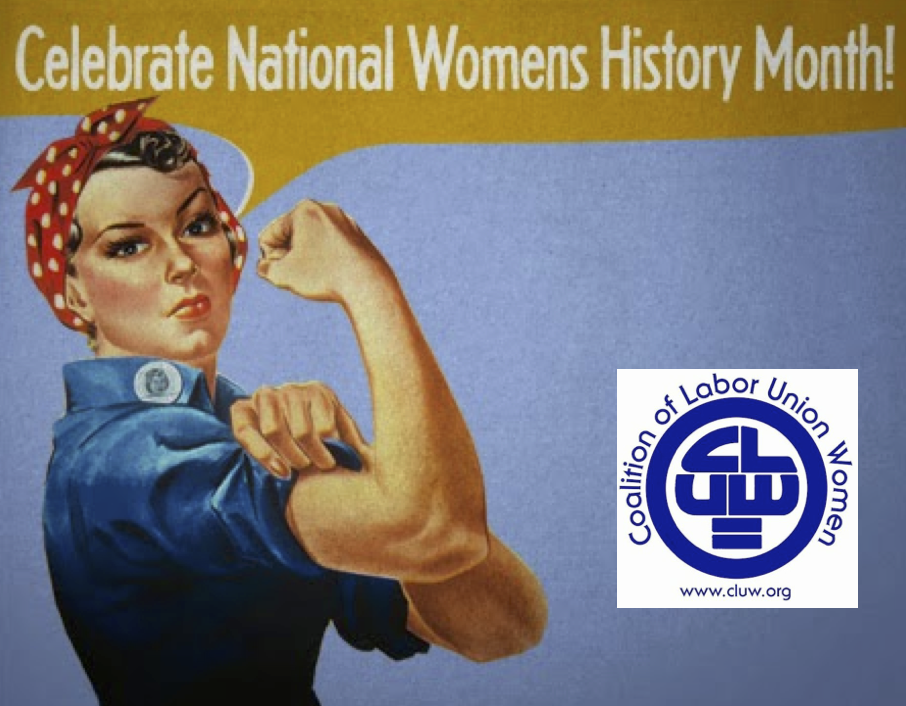 March NEB Meeting, Leadership Training & 40th Anniversary Celebration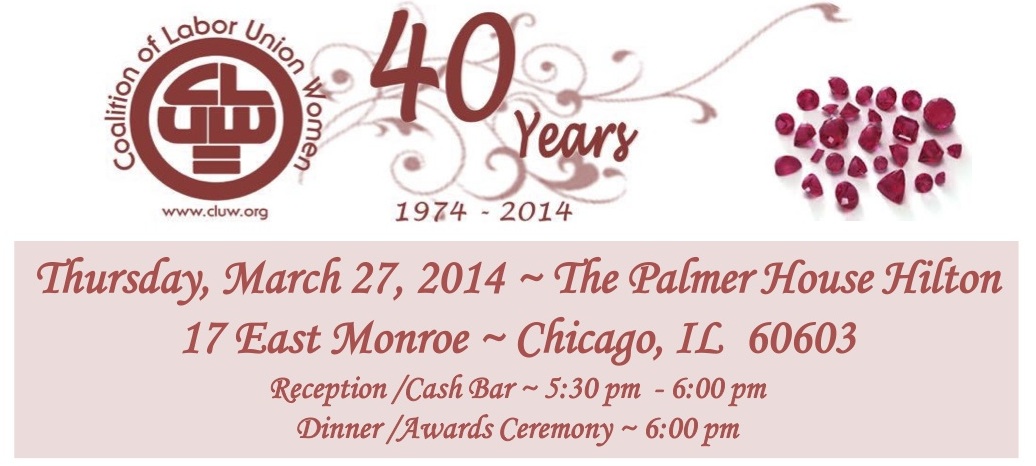 The Coalition of Labor Union Women Invites You to: 40th Anniversary Awards Celebration, Women's Leadership Skills Conference and National Executive Board Meeting in Chicago.
CLUW will be celebrating our 40th anniversary in the city of our founding along with a Working Women's Award Celebration, Reception and Dinner the evening of March 27th. Our theme is: Celebrating our Past…Securing our Future. We hope you will be joining us for this historic occasion to honor the following:
Lifetime Achievement Award
Katie Jordan, Workers United/SEIU
President, Chicago CLUW Chapter

Friend of Labor Award
Janice "Jan" Schakowsky
U.S. House of Representatives (IL 9)

Pioneer Award
Bea Lumpkin, AFT
Ida Torres, RWDSU/UFCW
Founding Members of CLUW

Olga Madar Leadership Award
Elizabeth Powell, APWU
S

ecretary Treasurer



Grassroots Leader Award
Millie Hall, OPEIU
President, Metro-Detroit CLUW Chapter

Rising Star Award
Dina Yarmus, UNITE HERE
Philadelphia CLUW Chapter

Appreciation Award
Richard L. Trumka, President
AFL-CIO
Please find 40th Annual Celebration Invitation, Tickets and Sponsorship Information can be purchased via our Online Store by clicking here. (If you plan to attend the conference below your ticket will be included so you do not need to respond here). Please find information on placing an Ad in our Souvenir Journal by clicking here.
CLUW Women's Leadership Skills Conference: March 27-29
Sessions are designed to give union women skills so they can play a prominent role in their unions and their communities. Participants who complete the required number of sessions will receive a CLUW Certificate of Completion. This training will offer 4 tracks of 6 hours each. Also included will be 14 individual workshops offering a wide variety of subjects – many workshops will be run twice.
Educational Tracks: Public Speaking, Leadership, Community Partnership/Engagement, Political and Legislative Action (attendees will be required to choose 1 track)
Individual Workshops: Domestic Violence, Voter Suppression, Reproductive Justice, Mentoring, Grant Writing, Learn to Negotiate Anything, Common Sense Economics for Women, Getting Breast Cancer Out of Work, Combating Racism, Sexism, Homophobia, Growing CLUW, Social Media, Human Dignity, International Treaties and Women's Rights, Seven Strategies That Promote Women's Activism and Leadership in Unions and Discrimination and Harassment on the Job: An EEOC Primer.
(Based on current planning and presenters' availability; working titles only). See Tentative Agenda by clicking here. See Registration Form by clicking here; package prices include Continental Breakfast and 40th Anniversary Celebration Ticket.
The first National Executive Board meeting of 2014 will be held on March 26th – on site registration opens at 3 PM on March 25th. All CLUW members are welcome to attend as observers. See tentative agenda here.
All events will take place at The Palmer House Hilton, 17 E. Monroe St., Chicago, IL 60603. The CLUW hotel rate is $169 single/double per person, per night plus current taxes of 16.4% per night. Some doubles are available with 2 bathrooms. Room reservations should be made no later than February 28 directly with the hotel by calling 877.865.5321 and requesting group code CLA or by booking online by clicking here (no code is necessary when booking online).The complimentary fitness center offers 10,000 sq. ft. of cardio and free weight equipment, an indoor pool, whirlpool and saunas. The Balance Spa features 14 treatment rooms. Parking is $41 per night. Check in time is 3 PM. Attendees wishing to avoid an early check out fee should advise the hotel at or before check-in of any change in departure.
The hotel is within walking distance to Millennium Park, the Art Institute, Chicago's theaters and other attractions. More Chicago area information is available by clicking here.
Transportation information to and from the airports can be found by clicking here.
COMPLETE THE REGISTRATION FORM HERE FOR THE NEB, WOMEN'S LEADERSHIP SKILLS TRAINING CONFERENCE AND 40TH ANNIVERSARY AWARDS CELEBRATION.
Educational Conference Scholarship Fund
The Coalition of Labor Union Women (CLUW) Receives $12,000 Grant from The Berger Marks Foundation to Train Young Women to Become Future Union Leaders
CLUW is very pleased to announce that we have been awarded an educational and training grant which enables us to bring 10 young women (35 years old and younger) to CLUW's 3 day Women's Leadership Skills Conference taking place in Chicago from March 27-29. At the same time we will be recognizing our 40th Anniversary by "Celebrating Our Past…Securing Our Future," CLUW National President Connie Leak remarked that, " We are very appreciative of the generosity of The Berger-Marks Foundation and look forward to the excitement that these young women will bring to our event. We will arm them with many of the tools they need to become leaders within the labor movement because we know young women are the wave of the future and CLUW will do everything we can to support them on this path."
CLUW will be supplementing the grant funds by paying for each successful candidate's registration fee.
The conference will include 4 tracks – 6 hours each offering an in depth educational experience in the areas of Public Speaking, Political and Legislative Action, Community Engagement/Partnerships and Leadership.
In addition 14 two hour workshops will be offered covering a wide variety of subjects.
We are very pleased and excited to make available three workshops that are inspired by and will use Berger-Marks' reports. These workshops are "What Grants Are Available to Unions, CLUW Chapters and Suggestions for Applying;" "I Know I Can Do This Work: Seven Strategies That Promote Women's Activism & Leadership in Unions;" and "Mentoring 101." The Berger-Marks Foundation will be covering expenses for the trainers for these workshops.
Other workshops are: Learn to Negotiate Anything; Domestic Violence; Getting Breast Cancer Out of Work; Reproductive Justice; Voter Suppression; Human Dignity, International Treaties and Women's Rights; Combating Racism, Homophobia and Sexism; Social Media; Growing CLUW and Discrimination and Harassment on the Job: An EEOC Primer. We also are particularly pleased that the AFL-CIO will be introducing their new Common Sense Economics for Women program at CLUW's training.
CLUW was a recipient in November 2012 of a Berger-Marks grant to fund 10 young women to a 4 day leadership conference that was very well attended and inspiring to those that were able to be there. We expect the 2014 experience to top that!
2014 CLUW State Officers Election Results
We would like to congratulate the newly elected 2014 State Presidents and Vice-Presidents who are listed below.
| | |
| --- | --- |
| State | President |
| California | Elizabeth "Nikki" Linnerman, SEIU |
| District of Columbia | Vacant |
| Florida | Patty White, CWA |
| Illinois | Angel Parker, AFSCME |
| Maryland | Rachel Walthall, APWU |
| Michigan | Paulette Warren, UAW |
| Missouri | Chere Chaney, CWA |
| New Jersey | Jean Pierce, AFT |
| New York | Carolyn Askew, AFSCME |
| Ohio | Brenda Davis, UAW |
| Pennsylvania | Kim George, AFSCME |
| Texas | Angela Michelle Lewis, CWA |
| Washington | Verlene Davis, OPEIU |
| State | Vice-President |
| California | Dianna Limon, IBEW |
| District of Columbia | Vacant |
| Florida | Vacant |
| Illinois | Rochell Carole Parker, AFSCME |
| Maryland | Chandra Carriere, AFT |
| Michigan | Barbara Young, UAW |
| Missouri | Tracey A. Riley, IBEW |
| New Jersey | Vacant |
| New York | Rhonna Bonsu, AFSCME |
| Ohio | Davida Russell, AFSCME |
| Pennyslvania | Maisha Brown, AFSCME |
| Texas | Carolyn Ann Burton, TWU |
| Washington | Stephanie A. Lloyd-Agnew, IAM |
Don't Let Staples Destroy Your Post Office
| | |
| --- | --- |
| | Staples has initiated a pilot program across the country in 80 of their stores where they have collaborated with USPS to open up Postal Retail centers using Staples employees instead of Postal workers. Staples is walmartizing their employees and together with USPS are trying to take away good union jobs and moving yet another step towards privatizing the Postal Service. USPS needs to expand their retail services, but not at the expense of Postal workers. Add your name to the Stop Staples Petition by clicking here. |
17th Biennial Convention News

Connie Leak (UAW) Elected President of the Coalition of Labor Union Women
Young Women Workers Featured in 17th Biennial Convention

Delegates to the 17th Coalition of Labor Union Women (CLUW) Biennial Convention elected Connie Leak as their new president. She was elected on November 15th in Reno, NV. Leak is the seventh president of CLUW and the second UAW woman to hold that position. She has been a member of UAW since 1977, holding elected positions within her local and region. Leak currently serves as International Representative in the UAW Women's Department. Sister Leak has been a member of CLUW since 1998 and believes, "My personal goal has always been to encourage young women to lead through mentorship, training and example. They are the future leaders in our unions and CLUW." She had formerly served as a National Vice President.

Other officers re-elected to another term were Dee Gorczyca, IFPTE, Executive Vice President; Judy Beard, APWU, Treasurer; Kerry Newkirk, SEIU, Recording Secretary and Bennie R. Bridges, AFGE, Corresponding Secretary.

Carla M. Insinga, AFSCME; Jane Blume, UAW; LaTonya Crisp-Sauray, TWU and Robyn Sherles, SEIU were newly elected as National Vice Presidents.

Shelvy Young Abrams, AFT; Diane M. Babineaux, IAM; Janet Hill, USW; Theresa Kandt, OPEIU; Angela W. Johnson, UFCW; Shyla La'Sha, SAG-AFTRA; Michele A. Newby, IAFF; Sarah Reynolds, ATU; Elisa Riordan, CWA; Joanne M. Sanders, IATSE; Vicki Sawicki, NALC and Carolyn J. Williams, IBEW were re- elected as National Vice Presidents.

Under the theme of "CLUW: Moving the Working Women's Agenda Forward!" five hundred delegates and observers from twenty nine states and Canada engaged in four days of education and activism, setting the agenda for CLUW for the next two years.

On Wednesday, November 13th twenty three workshops were offered covering a variety of topics including; Organizing for Healthcare Justice, The Next Generation: Mentoring Future Union Leaders, Social Media 201,Voter Suppression and Getting out the Vote, and Standing Up to Change Wal-Mart to name a few

A highlight of Thursday's session was a video, "Union Women Union Power: From the Shopfloor to the Streets" produced by the Philadelphia Chapter Young Women's Committee, which showcased union activism throughout Philadelphia --- especially during the Temple University health care workers' strike. You can view it along with a background write up in the article listed below.

On Friday morning, Laura Reyes, the International Secretary-Treasurer of the American Federation of State, County and Municipal Employees (AFSCME), engaged the delegates when she shared her personal story of moving from care-giver for her physically challenged son to the second highest ranking officer in AFSCME. She urged CLUW activists by exclaiming that, "This is the year of women….so seek out mentors to push beyond our fears and insecurity…".

The afternoon session opened with a compelling panel entitled "Building an Intergenerational Labor Movement: What You Can Do as a CLUW Activist". The panel was moderated by Carmen Berkley, the young, newly appointed Director of the AFL-CIO's Department of Civil, Human and Women's Rights who was most impressive as she kept the dialogue alive. She was joined by Dina Yarmus, chair of the Philadelphia Chapter's Young Women's Committee and Donchele Soper, a member of IBEW Local 1245 and Central California CLUW. Both young women articulated the issues facing young women workers on the job and within their local unions. They were joined by Carolyn Jacobson, Secretary-Treasurer of the Berger-Marks Foundation and longtime CLUW activist. The panelists and delegates (through a Q and A period) agreed that working together is what will strengthen us and that both young and more veteran activists can learn from each other.

The delegates considered a number of resolutions and adopted many, such as those calling for a single payer system so that scarce healthcare resources are not squandered by profiteers, marketing and excessive administrative costs; calling on members to help mobilize the entire labor movement and our allies in the progressive community to defeat the forces of austerity and anti-unionism in the debate over postal reform; that CLUW will fight to ensure that all children have the opportunity to attend great schools that provide a safe and welcoming environment in their own neighborhood; that CLUW calls on all labor unions and pro-working family organizations in the United States, Canada and abroad to join the campaign to support OUR Wal-Mart's call for Wal-Mart to publicly commit to providing workers with good jobs, full-time hours and respect on the job; that CLUW will encourage its members and chapters to incorporate programs about reproductive rights into their normal activity and to do so in conjunction with the Labor and Women's Community; and, the Coalition of Labor Union Women endorses the Family and Medical Insurance Leave Act (FAMILY Act), sponsored by Senator Kirsten Gillibrand of New York and Representative Rosa DeLauro of Connecticut, which would create a national paid family and medical leave insurance program to ensure people have much-needed income when family and medical needs arise.

The delegates also considered a four-year strategic plan presented for discussion. It was decided, however, that further exploration and input was needed before it could be considered for adoption and implementation.


Union Women Union Power: From the Shopfloor to the Streets
UNION WOMEN, UNION POWER: FROM THE SHOPFLOOR TO THE STREETS
This film project came out of a process which started about a year ago when we, as young women in our organization, were asked to play more of a leadership role in our CLUW chapter. We had several conversations where we thought about, what is the history of CLUW? why was it important to have a gender analysis for the labor movement and a class analysis for the women and gender liberation movements, when CLUW was founded and why is it still important now? We thought about what big questions lay before us and what experiences we should learn from. We decided that we needed to think about what types of projects we could work on that would begin to help us think about what it means to be the future of the labor movement and how we can continue the fights of our sisters before us. And we wanted to start in our city, Philadelphia, with women who have been on the front lines of major fights, in our city, and whose experiences we need to understand, whose analysis we need to incorporate as we think about what we are going to do tomorrow, 6 months from now, 5 years from now, 30 years from now. With humility, love and deep commitment to building a better world we share with you this film to start a conversation.
We never made a film before and so we sought out some essential support from film makers in our city with a conscious. We learned a tremendous amount from this project. We also received funds from the Berger-Marks Foundation as well as from the HPAE-Staff Union to make this film possible. One of our main motivations of creating this film was really to start a dialogue, first by getting the opportunity to interview this group of fierce and inspiring women, and also to start a dialogue more broadly, a dialogue that is going to actually carry beyond this film.
FEATURING (in alphabetical order): Patty Eakin: President, Pennsylvania Association of Staff Nurses and Allied Professionals; Corean Halloway: UNITE HERE Hotel and Foodservice Workers Local 274; Gwen Ivey: President, American Postal Workers Union Philadelphia Local; Evette Jones: Staff Representative & Community Engagement Coordinator, Philadelphia Federation of Teachers, AFT Local 3; Margarita Padin: Carpenter Local Union 8
PRODUCERS AND PROJECT DIRECTORS: Dina Yarmus, UNITE HERE Hotel and Foodservice Workers Local 274 Sandra Jeong-In Lane, Health Professionals and Allied Employees, AFT DIRECTOR: Christian Filippone; CINEMATOGRAPHY: Michael Toland MUSIC BY: Patrick Lamborn
| | | |
| --- | --- | --- |
| | | |
| | | |
| | | |

FOR IMMEDIATE RELEASE
January 29, 2014
Contact: Jennifer Clark, clark@iwpr.org, 202.785.5100
Equal Pay for Working Women Would Boost the Economy
Washington, DC— On the fifth anniversary of the signing of the Lilly Ledbetter Fair Pay Act—a bill that reinstated women's ability to contest unlawful pay discrimination and was the first bill signed into law by President Obama—analysis from the Institute for Women's Policy Research (IWPR) finds that the poverty rate for working women would be cut in half if women were paid the same as comparable men, and that greater pay transparency would increase women's pay.
Nearly 60 percent (59.3 percent) of women would earn more if working women were paid the same as men of the same age with similar education and hours of work. The poverty rate for all working women would be cut in half, falling to 3.9 percent from 8.1 percent. The high poverty rate for working single mothers would fall by nearly half, from 28.7 percent to 15.0 percent. For the 14.3 million single women living on their own, equal pay would mean a significant drop in poverty from 11.0 percent to 4.6 percent.
Persistent pay discrimination for women translates into lower wages and family income in families with a working woman. The gender pay gap also affects the economy as a whole: in 2012, the U.S. economy would have produced additional income of $447.6 billion (equal to 2.9 percent of 2012 GDP) if women received equal pay.
"Unequal pay for women has had a negative effect on women and men, alike," said IWPR President Heidi Hartmann, Ph.D. "Paying women fairly for their work would go a long way in reducing poverty and giving the economy the jump start it needs."
"Today, too many workers are discouraged from sharing the pay information that would give women the tools they need to challenge pay levels," said IWPR Vice President and Executive Director Barbara Gault, Ph.D.
Nearly half of all workers are either prohibited or strongly discouraged from discussing their pay with their colleagues. The gender wage gap in the federal government—with high levels of pay transparency—is only 11 percent, compared with 23 percent nationwide.

The Institute for Women's Policy Research (IWPR) is a 501(c)(3) tax-exempt organization that conducts rigorous research and disseminates its findings to address the needs of women and their families, promote public dialogue, and strengthen communities and societies.
-END-