17th Biennial CLUW Convention Call
It is with great pleasure that we issue the Official Call for the 17th Biennial Convention for the Coalition of Labor Union Women, November 13-16 at the Grand Sierra Resort & Casino, located in Reno, Nevada. The theme of this convention is "MOVING THE WORKING WOMEN'S AGENDA FORWARD".
This convention, for the first time in our history, is a member convention. To participate in the convention with voice and vote all you need to be is a Regular National CLUW Member in good standing on September 30, 2013.
The women's movement and the labor movement are facing some of the biggest challenges in our history, with battles on every front. This is our opportunity to engage those in the labor movement and our friends who are not part of the labor movement and to learn how we can Move the Working Women's Agenda Forward.
This convention is about working together to set new goals and frame our objectives from the founding principles that guide the work of our organization. Progess is made possible by networking, sharing information and developing ideas to form new programs and policies.
On Wednesday, November 13, 2013, we will offer a wide variety of workshops. Details will be posted here on the website in a few weeks.
Please not that observers are welcome to attend the convention and fully participate in all activities. However, they will be required to pay the appropriate registration fee and will be seated in a special section in the convention hall as they will NOT be able to vote.
We hope you will enjoy this exciting convention which includes workshops on a variety of topics, dynamic speakers and sessions to inspire and empower delegates and guest.
Online Convention Registration is now available thru our Online Store. Hotel Reservations can be made by clicking here.
More information is posted on our Convention Page.
Pregnant Workers Fairness Act Re-Introduced on May 14 in the House and Senate
62% of women in the United States who gave birth In a one year period also worked during that time. Treating pregnant workers fairly is important to working families and is critical to our economy. The Pregnant Workers Fairness Act is needed to address problems many pregnant workers have on the job...

The Pregnant Workers Fairness Act requires employers to make the same types of accommodations for pregnancy, childbirth, and related medical conditions that they already make for disabilities. It is sponsored by Senators Robert Casey (D-PA) and Jeanne Shaheen (D-NH) and Representatives Jerrold Nadler (D-NY), Carolyn Maloney (D-NY), Jackie Speier (D-CA), Susan Davis (D-CA), and Marcia Fudge (D-OH) CLUW was one of many organizations that signed on to a letter to Congress prior to the bill being reintroduced on May 14th. You can find the letter by clicking here.

Despite the Pregnancy Discrimination Act of 1978, employers routinely deny requests for temporary work adjustments by pregnant workers. All too often pregnant women are given an impossible choice – endanger your pregnancy or lose your job. That's because when some pregnant workers ask for adjustments in their job duties so they can continue safely working — like avoiding heavy lifting or staying off ladders—their bosses deny their requests , even when the adjustments were offered to other workers. As a result, some women who want and need to continue working throughout their pregnancies have been fired, forced to quit, or forced onto unpaid leave.

For more information please check out the fact sheet from the National Partnership for Women & Families that you can find by clicking here.

Please call or e-mail your Members of Congress today and ask them to co- sponsor this bill. You can find contact information by clicking here.


Faux Comp Time Bill Passes House of Representatives
On May 8th the so – called Working Families Flexibility Act. HR 1406 passed the House of Representatives by a 223-204 vote. This bill had been pushed by House Republicans and it would amend the Fair Labor Standards Act to allow EMPLOYER- controlled compensatory time off to be substituted for paid overtime. It would allow employers to pay their workers nothing extra for overtime work, other than the potentially empty promise of compensatory time—"comp time"—that can only be used at the employer's discretion

This is a lose – lose for working women and an effort to disguise anti- worker legislation by hoping it will appeal by using "flexibility" in its title. But the only flexibility here is that guaranteed to the EMPLOYER. It does nothing to address work life balance.

The Senate is not expected to take up the bill and President Obama has said that he will veto it if it comes across his desk..

Prior to the vote more than 160 women's, workers and civil rights organizations sent a letter to the House urging it to reject HR 1406. CLUW was one of the organizations that signed on. You can find the letter by clicking here.

We applaud those representatives who spoke up against this bill and recommended other legislation such as the Healthy Families Act, the Paycheck Fairness Act and the Federal Minimum Wage Act as real legislation that would benefit working families.

We are proud of what many female legislators did to express their disdain for this bill. You can see them in action in this You-Tube video:


Find out how your representative voted by clicking here.
2013 AFL-CIO Jobs and Freedom Scholarship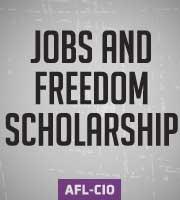 To commemorate the 50th anniversary of the March on Washington where Dr. Martin Luther King, Jr., delivered his "I Have a Dream" speech, the AFL-CIO and Union Plus are offering scholarships to help graduating high school seniors realize their dreams of a college education.
The one-time $5,000 scholarships are for study for the academic year beginning in the fall 2013 through summer 2014. Fifty scholarships will be awarded.
APPLICATION DEADLINE
A completed application must be received on or before 12 p.m. EDT on Monday, July 1, 2013. Apply Now
Help Save the U.S. Postal Service
Do you care about keeping post offices open, ensuring Saturday delivery for years to come and stopping proposals to lay off postal workers?

Please sign a petition to support a bill that would end the requirement that the U.S. Postal Service (USPS) pre-fund 75 years of retiree health care benefits.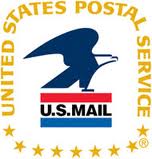 Rep. Peter DeFazio (D-OR) filed legislation to end this requirement to pre-fund retiree health benefits. The legislation that forces the requirement, passed by Congress in 2006, is unprecedented, as no other private or public entity has to meet such a standard.

That requirement is the key factor driving Postal Service deficits and defaults and has led to proposals to end Saturday service, close rural post offices and lay off postal workers. Sen. Bernie Sanders (I-VT) introduced companion legislation in the Senate.

Read more from the National Association of Letter Carriers about The Truth Behind the Postal Service's Finances. To see updates on legislation please check out the American Postal Workers Union's page.
CLUW Seeks Your Input
It is no secret to any of us that organized labor is in crisis. Union-represented workers in both the private and public sectors have fallen to levels that border on extinction. As a result, labor's affiliate organizations find themselves struggling as they have never struggled before. CLUW is no exception to this stark reality. We, as an organization, are in crisis as well. We need to find a new way of doing business in today's world.

An NOC subcommittee is seeking advice and input from all CLUW members and some former members. In order to do this, the National CLUW office is sending you this survey via E-mail. If you did not receive an E-mail Invitation to participate in this Survey please take a few minutes to respond to survey by clicking here.
Thank you for your continued support and for the work you do every day to improve the lives of working women and their families.

In Solidarity,
Karen J. See, President
and the National Officers' Council
Coalition of Labor Union Women

Starting this June, summer schools for union women will be taking place in several locations throughout the country

The Western Region takes place June 25-30 at the University of Washington, Seattle, Washington
The Northeast Region takes place July 20-25 at Cornell University, Ithaca, NY
The Midwest/Southern Regions take place August 15-18 at the Wyndham Riverfront in Little Rock, Arkansas

These schools are wonderful opportunities to gain knowledge, and do so in a great environment with other women from various unions. Just about everyone who has had a union women summer school experience raves about it. If you have not yet participated please consider attending this summer. CLUW is an enthusiastic endorser.

Please find more details and application information here: The United Association for Labor Education (UALE) is one of the sponsors and many of the instructors are members of the organization.