17th Biennial Convention News

Connie Leak (UAW) Elected President of the Coalition of Labor Union Women
Young Women Workers Featured in 17th Biennial Convention

Delegates to the 17th Coalition of Labor Union Women (CLUW) Biennial Convention elected Connie Leak as their new president. She was elected on November 15th in Reno, NV. Leak is the seventh president of CLUW and the second UAW woman to hold that position. She has been a member of UAW since 1977, holding elected positions within her local and region. Leak currently serves as International Representative in the UAW Women's Department. Sister Leak has been a member of CLUW since 1998 and believes, "My personal goal has always been to encourage young women to lead through mentorship, training and example. They are the future leaders in our unions and CLUW." She had formerly served as a National Vice President.

Other officers re-elected to another term were Dee Gorczyca, IFPTE, Executive Vice President; Judy Beard, APWU, Treasurer; Kerry Newkirk, SEIU, Recording Secretary and Bennie R. Bridges, AFGE, Corresponding Secretary.

Carla M. Insinga, AFSCME; Jane Blume, UAW; LaTonya Crisp-Sauray, TWU and Robyn Sherles, SEIU were newly elected as National Vice Presidents.

Shelvy Young Abrams, AFT; Diane M. Babineaux, IAM; Janet Hill, USW; Theresa Kandt, OPEIU; Angela W. Johnson, UFCW; Shyla La'Sha, SAG-AFTRA; Michele A. Newby, IAFF; Sarah Reynolds, ATU; Elisa Riordan, CWA; Joanne M. Sanders, IATSE; Vicki Sawicki, NALC and Carolyn J. Williams, IBEW were re- elected as National Vice Presidents.

Under the theme of "CLUW: Moving the Working Women's Agenda Forward!" five hundred delegates and observers from twenty nine states and Canada engaged in four days of education and activism, setting the agenda for CLUW for the next two years.

On Wednesday, November 13th twenty three workshops were offered covering a variety of topics including; Organizing for Healthcare Justice, The Next Generation: Mentoring Future Union Leaders, Social Media 201,Voter Suppression and Getting out the Vote, and Standing Up to Change Wal-Mart to name a few

A highlight of Thursday's session was a video, "Union Women Union Power: From the Shopfloor to the Streets" produced by the Philadelphia Chapter Young Women's Committee, which showcased union activism throughout Philadelphia --- especially during the Temple University health care workers' strike. You can view it along with a background write up in the article listed below.

On Friday morning, Laura Reyes, the International Secretary-Treasurer of the American Federation of State, County and Municipal Employees (AFSCME), engaged the delegates when she shared her personal story of moving from care-giver for her physically challenged son to the second highest ranking officer in AFSCME. She urged CLUW activists by exclaiming that, "This is the year of women….so seek out mentors to push beyond our fears and insecurity…".

The afternoon session opened with a compelling panel entitled "Building an Intergenerational Labor Movement: What You Can Do as a CLUW Activist". The panel was moderated by Carmen Berkley, the young, newly appointed Director of the AFL-CIO's Department of Civil, Human and Women's Rights who was most impressive as she kept the dialogue alive. She was joined by Dina Yarmus, chair of the Philadelphia Chapter's Young Women's Committee and Donchele Soper, a member of IBEW Local 1245 and Central California CLUW. Both young women articulated the issues facing young women workers on the job and within their local unions. They were joined by Carolyn Jacobson, Secretary-Treasurer of the Berger-Marks Foundation and longtime CLUW activist. The panelists and delegates (through a Q and A period) agreed that working together is what will strengthen us and that both young and more veteran activists can learn from each other.

The delegates considered a number of resolutions and adopted many, such as those calling for a single payer system so that scarce healthcare resources are not squandered by profiteers, marketing and excessive administrative costs; calling on members to help mobilize the entire labor movement and our allies in the progressive community to defeat the forces of austerity and anti-unionism in the debate over postal reform; that CLUW will fight to ensure that all children have the opportunity to attend great schools that provide a safe and welcoming environment in their own neighborhood; that CLUW calls on all labor unions and pro-working family organizations in the United States, Canada and abroad to join the campaign to support OUR Wal-Mart's call for Wal-Mart to publicly commit to providing workers with good jobs, full-time hours and respect on the job; that CLUW will encourage its members and chapters to incorporate programs about reproductive rights into their normal activity and to do so in conjunction with the Labor and Women's Community; and, the Coalition of Labor Union Women endorses the Family and Medical Insurance Leave Act (FAMILY Act), sponsored by Senator Kirsten Gillibrand of New York and Representative Rosa DeLauro of Connecticut, which would create a national paid family and medical leave insurance program to ensure people have much-needed income when family and medical needs arise.

The delegates also considered a four-year strategic plan presented for discussion. It was decided, however, that further exploration and input was needed before it could be considered for adoption and implementation.


Union Women Union Power: From the Shopfloor to the Streets
UNION WOMEN, UNION POWER: FROM THE SHOPFLOOR TO THE STREETS
This film project came out of a process which started about a year ago when we, as young women in our organization, were asked to play more of a leadership role in our CLUW chapter. We had several conversations where we thought about, what is the history of CLUW? why was it important to have a gender analysis for the labor movement and a class analysis for the women and gender liberation movements, when CLUW was founded and why is it still important now? We thought about what big questions lay before us and what experiences we should learn from. We decided that we needed to think about what types of projects we could work on that would begin to help us think about what it means to be the future of the labor movement and how we can continue the fights of our sisters before us. And we wanted to start in our city, Philadelphia, with women who have been on the front lines of major fights, in our city, and whose experiences we need to understand, whose analysis we need to incorporate as we think about what we are going to do tomorrow, 6 months from now, 5 years from now, 30 years from now. With humility, love and deep commitment to building a better world we share with you this film to start a conversation.
We never made a film before and so we sought out some essential support from film makers in our city with a conscious. We learned a tremendous amount from this project. We also received funds from the Berger-Marks Foundation as well as from the HPAE-Staff Union to make this film possible. One of our main motivations of creating this film was really to start a dialogue, first by getting the opportunity to interview this group of fierce and inspiring women, and also to start a dialogue more broadly, a dialogue that is going to actually carry beyond this film.
FEATURING (in alphabetical order): Patty Eakin: President, Pennsylvania Association of Staff Nurses and Allied Professionals; Corean Halloway: UNITE HERE Hotel and Foodservice Workers Local 274; Gwen Ivey: President, American Postal Workers Union Philadelphia Local; Evette Jones: Staff Representative & Community Engagement Coordinator, Philadelphia Federation of Teachers, AFT Local 3; Margarita Padin: Carpenter Local Union 8
PRODUCERS AND PROJECT DIRECTORS: Dina Yarmus, UNITE HERE Hotel and Foodservice Workers Local 274 Sandra Jeong-In Lane, Health Professionals and Allied Employees, AFT DIRECTOR: Christian Filippone; CINEMATOGRAPHY: Michael Toland MUSIC BY: Patrick Lamborn
Women in Tech Industry Can 'Lean In' Together
In an article at Alternet, Brigid O'Farrell takes a look at the problem of sexism in the tech industry and suggests that women in tech could learn from the successes women have had in the labor movement:

Women who laugh off the behavior of the "boys," the declining percent of women and their limited job categories and lower pay may be facing yet another long fight for equality. Women tech leaders like Sheryl Sandberg at Facebook advise women to "lean in." Union women, on the other hand, suggest that women learn to "lean together." Women and men of the tech industry might just learn something from the labor movement today.[...]
The labor federation [AFL-CIO] represents 57 unions and more than 12 million members, nearly half of whom are women. According to the Department of Labor, union women earn more than women who don't have a union on the job, with median weekly earnings of $877, compared to $663 for nonunion women. They are more likely to have health insurance, pensions and sick leave. They also have a voice at work. The new AFL-CIO Women's Initiative calls for "equality in pay and opportunity for all; the right of women to control their own bodies and be free from violence; and the right of every woman to meet her fullest potential and the opportunity to serve—and lead—her community. Nothing less."

Union women are speaking out about the need for protections for women and challenging discrimination. Randy Weingarten, president of the 1.5 million-member AFT, supports the new inclusive measures being proposed by her union to expand labor's voice and build labor's strength for both public- and private-sector unions; not just for teachers, but for all workers.

Executive Director of the National Taxi Workers Alliance Bhairavi Desai, who [was recently elected] to the AFL-CIO Executive Council, speaks movingly of her organization's struggles on behalf of immigrant workers and the need for taxi drivers to have basic protections at work. She gives one chilling example of a woman who was raped by her customers and left in the trunk of her taxi to die, only for her family to find that the taxi company cared most about her final month's payment for the taxi. Domestic workers like Myrtle Witbooi, the South African chair of the International Domestic Workers Network, are giving powerful voices to workers who have been too often pushed aside and for whom strong unions can make a big difference.

Read the full article by clicking here.


Job Growth for Women Contines to Accelerate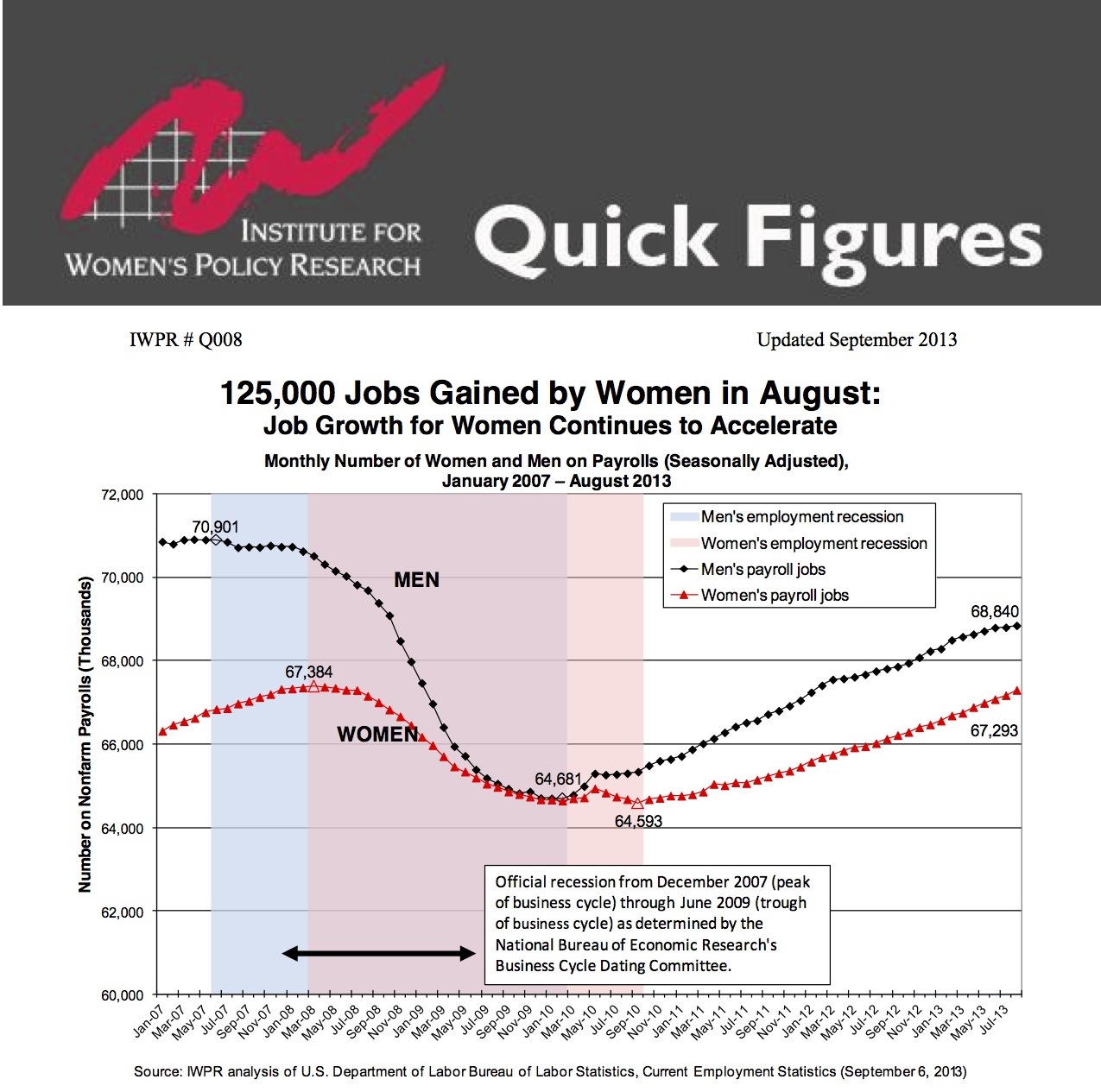 According to the IWPR analysis of the September employment report from the U.S. Bureau of Labor Statistics (BLS), job growth remained anemic in August for men, but accelerated for women. Of the 169,000 total jobs added to nonfarm payrolls in August, women gained 125,000 jobs (74 percent) while men gained 44,000 jobs (26 percent). According to the revised BLS numbers for July and previous months, women gained 103,000 jobs on average in May through August (66 percent of the total job gains), while men gained an average of 53,000 jobs across the four months (34 percent).

Women's employment growth in August was aided by growth in Education and Health Services (49,000 jobs added for women), Retail Trade (36,400 jobs added for women), Professional and Business Services (24,000 jobs added for women), and Leisure and Hospitality (18,000 jobs added for women).

IWPR analysis of the BLS payroll data shows as of August, women have regained 99 percent (2.7 million) of the total jobs they lost in the recession from December 2007 to the trough for women's employment in September 2010 (2.72 million). Men have regained 69 percent (4.2 million) of the jobs they lost between December 2007 and the trough for men's employment in February 2010 (6 million). In the last year, from August 2012 to August 2013, of the 2.2 million jobs added to payrolls, 1.2 million or 53 percent were filled by women, and 1.0 million or 47 percent were filled by men. The gap between women's and men's employment is 1.5 million jobs in August, substantially less than at the start of the recession (3.4 million jobs in December 2007).

According to the household survey data reported by the BLS, the unemployment rate for women aged 16 and older decreased to 6.8 percent in August from 7.0 percent in July. The unemployment rate for men aged 16 and older remained steady at 7.7 percent in August. Among single mothers (female heads of households), the unemployment rate rose to 11.0 percent in August from 10.5 percent in July.

As of August, 11.3 million workers remain unemployed. There has been improvement over the past year in the average (mean) number of weeks spent unemployed and looking for work from 39.3 weeks in August 2012 to 37.0 weeks in August 2013. (The median number of weeks declined from 18.2 weeks in August 2012 to 16.4 weeks in August 2013.)
You can download this report by clicking here.
CLUW Members are Raising Their Voices to Raise the Minimum Wage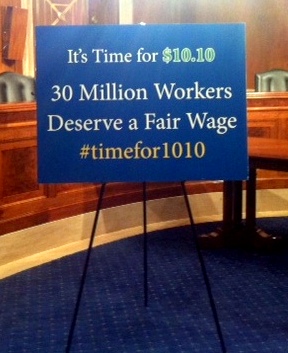 It has been four years since the federal minimum wage has been raised and 21 years since the federal tipped minimum wage has moved – it is time for a change. On July 24th all around the country this message was relayed on the National Day of Action to Raise the Minimum Wage through protests, press conferences, public hearings, rallies, a tweet chat, etc. Examples of CLUW members' participation can be found below.
The current federal minimum wage sits at $7.25, a wage set in 2009. The Fair Minimum Wage Act, introduced by Rep. George Miller [D-CA], would increase this wage in three increments, leading to a $10.10 minimum wage in approximately two years. The minimum wage would increase with inflation each year thereafter. The tipped minimum wage, which currently sits at $2.13 would eventually become a standard 70% of the non-tipped minimum wage, and sit at $7.10 after six increases over a six year period.
Raising the minimum wage and the tipped minimum wage disproportionately affects women and people of color. 56% of those who would receive a raise from this bill are women, about half of minimum wage workers are people of color, and 66% of tipped workers are women, according to a fact sheet produced by the Restaurant Opportunities Center (ROC). Servers, the largest segment of tipped workers, have a three times higher poverty rate than the rest of the workforce and must rely on food stamps at double the rate of the general population.
In Philadelphia, CLUW members joined with other representatives of groups such as Fight for Philly, Philaposh, AFSCME, SEIU, UFCW, the Philadelphia Unemployment Project (PUP), Restaurant Opportunities Center (ROC), Unitarian Universalist PA Legislative Advocacy Network, and the AFL-CIO. These activists rallied at City Hall with birthday hats and birthday cards, bringing attention to the 21st birthday of the $2.13 tipped minimum wage. The protesters moved to a nearby Olive Garden, a chain restaurant which pays its employees notoriously low wages. Keeping with the birthday theme, CLUW members and their fellow activists, with lit birthday cupcakes in their hands, sang "Happy Birthday," read the minimum wage's birthday card aloud, and chanted "shame, shame, shame!" before being ushered out of the establishment by police and returning to City Hall for closing remarks.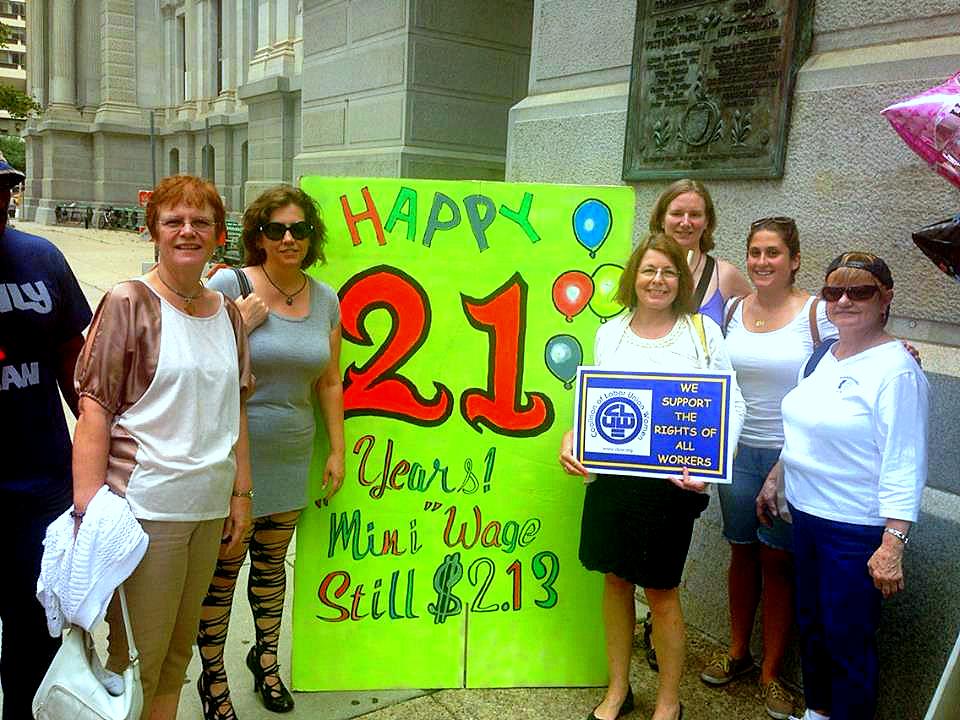 Pictured above L-R CLUW members: Cathy Scott , President of AFSCME DC 47 and Ex. Bd. Phila. CLUW , Kati Sipp (SEIU), Kathy Black (AFSCME), Pres. Phila. CLUW , L aura Wentz (IATSE ) and Ex. VP Phila. CLUW , Che Saitta (SEIU), Barbara Russella (Workers United/SEIU), Ex. Bd. Phila. CLUW . Not pictured: Gwen Snyder (Associate Member) .
In Los Angeles, CLUW representatives joined with fifty other activists at the Capitol Grille at the Beverly Center.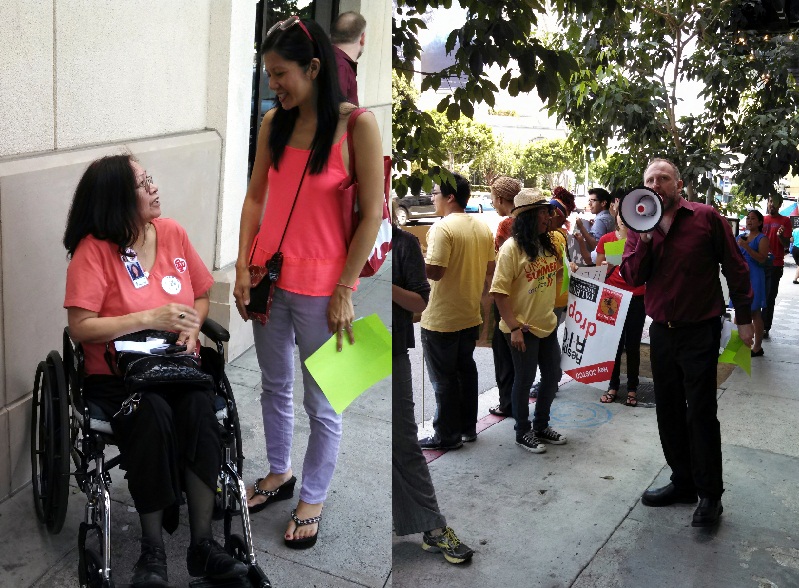 On the far left is LA CLUW Chapter President, Maggie Cook (IAM).
According to a new poll released by the National Employment Law Project at a press conference in Washington, DC on July 24th, 80% of Americans support raising the minimum wage to $10.10. At that time, CLUW representatives heard Senator Kirsten Gillibrand, Senator Bob Casey, Representative George Miller, and Representative Donna Edwards speak about why giving workers buying power is helpful to both our economy and to individuals and families. Lucila Ramirez, a low-wage employee who has worked in a restaurant at Union Station in D.C. for over 20 years, described how she earns only $8.75 an hour, forcing her to work two jobs with no option of retirement.
CLUW encourages you to sign the following petition to tell Congress "Don't let food workers go hungry"
When Women Succeed, America Succeeds: An Economic Agenda for Women and Families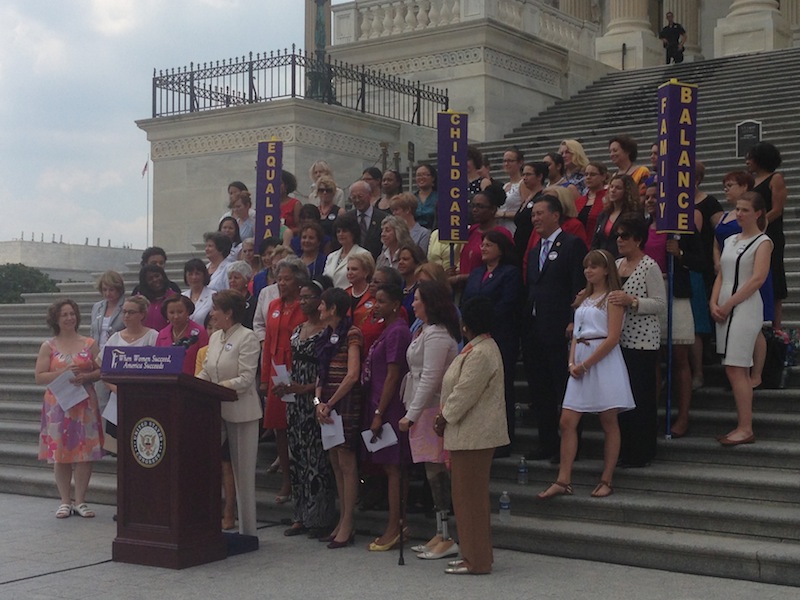 Democratic Leader Nancy Pelosi and House Democratic women rolled out a campaign on July 18th called "When Women Succeed, America Succeeds: An Economic Agenda for Women and Families."
The campaign was announced at a press conference on the steps of the Capitol with temperatures soaring into the high 90's. Leader Pelosi was joined by several members of the House of Representatives and leaders of many organizations that address issues of working women. Amongst those present were the Coalition of Labor Union Women, the AFL-CIO, UFCW, the Feminist Majority, the American Civil Liberties Union, the National Women's Law Center, the National Partnership for Women and Families, the American Association of University Women, the National Council of Women's Organizations and others. In addition to Leader Pelosi, Congresswomen Rosa DeLauro (CT), Donna Edwards (MD), Nydia Velazquez (NY) and Doris Matsui (CA) participated in the press conference along with several women who told their stories.
The campaign agenda focuses on policies that address real economic needs facing women and families: ensuring equal pay for equal work, promoting work and family balance, and providing access to affordable child care.
July 18th represents the 165th anniversary of the Seneca Falls Convention, the first women's rights convention in American history..
Tweeting is taking place on the 18th and 19th: #womensucceed
The following link provides more information about the campaign: