CLUW NEB Plans 19th Biennial Convention

On March 17th at the opening of the NEB meeting President Connie Leak outlined some of the challenges we were facing under the GOP/Trump Administration, but that we were up to the task as our convention motto expressed " Women: Taking It to The Streets" and that is what we would be doing. Since this NEB was the last before our convention in Detroit in September much time was spent by committees planning and making recommendations.
We were pleased to have Donna Edwards, Secretary-Treasurer of the MD and DC AFL-CIO and Carlos Jimenez, Executive Director of the Metro Washington Council, AFL-CIO participate and welcome us to the area.
Congressman Jamie Raskin Addresses CLUW NEB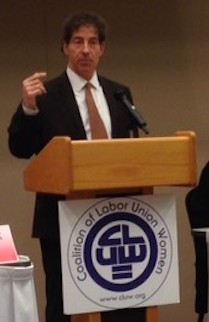 On March 18 Congressman Jamie Raskin was greeted by CLUW NEB members and observers decked out in their new CLUW t-shirts with the slogan "Can You Hear Us Now?" (see photo above)
He expressed that he was particularly pleased to join us, not only because he respects CLUW but also because the NEB (held at the Tommy Douglas Conference Center in Silver Spring, MD) is in his district. In acknowledging his recent race for the House of Representatives as a first time congressman, he shared that he was outspent 20 – 1 but he had something his opponents did not have, "I had the labor movement on my side." He urged us to "keep fighting, keep building, keep organizing and it's a great pleasure to be your ally in Congress". You can find his complete remarks here.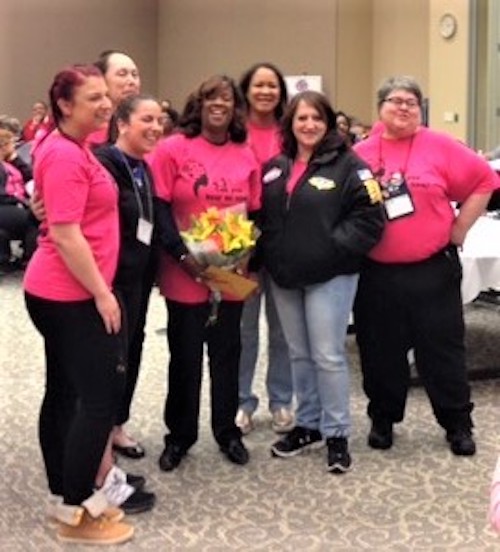 Diane Babineaux, CLUW Vice President and members of IAM who
expressed their appreciation upon her pending June IAM retirement.