CLUW's 5th Biennial Working Women's Award Celebration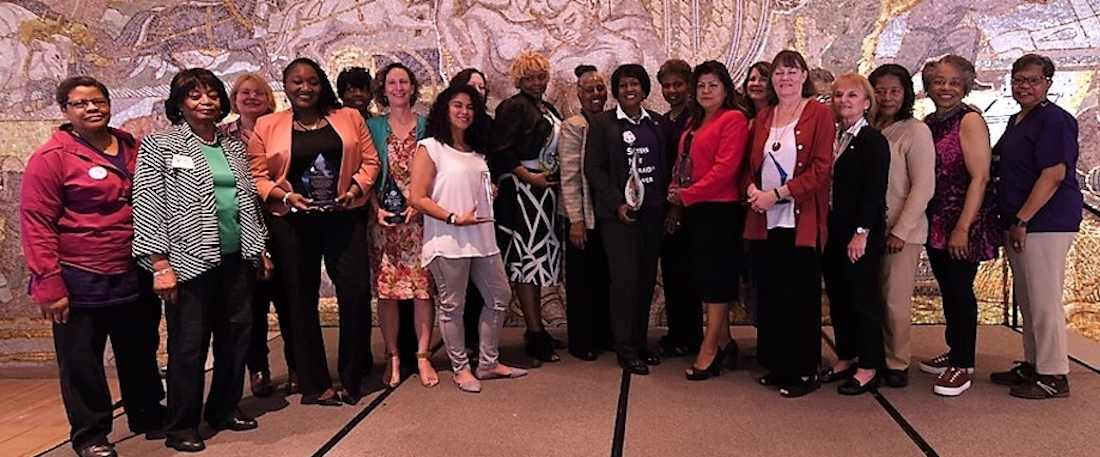 Honorees holding awards surrounded by CLUW National Officers (individual photos of award recipients can be found later in article). Thank you to Carlos H. San Miguel, Jr. (IAM) for providing the photos for this story.
After several days of participating in the SNAP (Sisters Not Afraid of Power) conference, CLUW continued the enthusiasm on May 4th by recognizing seven outstanding women in a standing room only crowd at the AFL-CIO Headquarters in Washington, DC. President Elise Bryant led the group in song "Welcome Union Members…we are in your presence, hand in hand together, we make the union strong." She turned the program over to emcee Karen Bellamy Lewis (National CLUW Vice President, IFPTE) who accepted the Friend of Labor Award for her Congresswoman, Hon. Bonnie Watson Coleman, (NJ -12) who was unable to be present but sent greetings which can be viewed here.
All of the honorees were given the opportunity to speak briefly; what follows are some of their thoughts and how they were inspired.
Dora Cervantes, the first female and Latina General Secretary-Treasurer of IAM was the recipient of the Olga Madar Leadership Award and acknowledged that in spite of her first impression of unions being not welcoming for women she became a union member and has been a Machinist for over 29 years. She shared that, "For more than half of my life I've been fighting for workers' rights and women's issues. I became involved because I wanted to make a difference in our workplace and in our union."
Elissa McBride, Secretary-Treasurer of AFSCME received the Trailblazer Award and she described women as trailblazers this way:" We blaze trails together… we know that is how we build power; we believe in reaching a destination on the trail…women walk trails with stamina – the more difficult, longer and arduous the race the better chance women have to beat men." Read more here.