NEB Charters New Chapter; Women's Health & Wellness Committee Provides HPV Information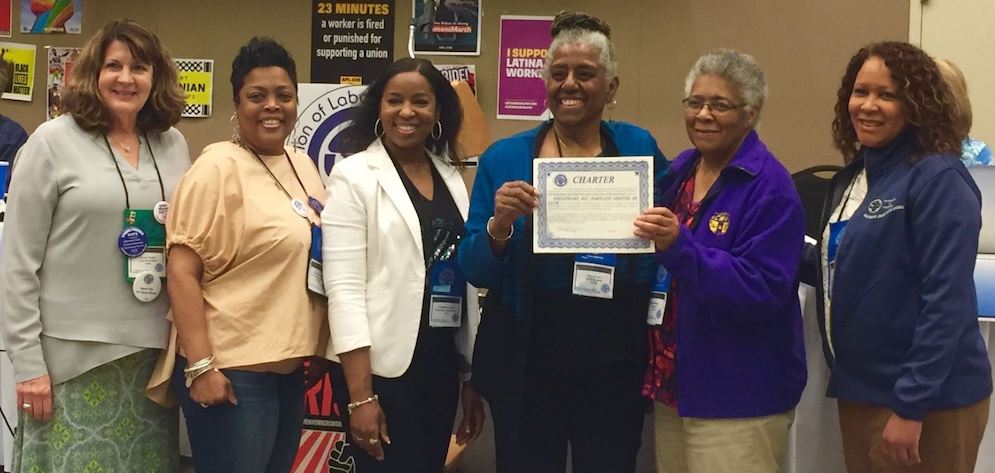 Elise Bryant holds charter with Brenda Savoy (Chesapeake Bay pres.) with chapter members, l. –r.: Rhonda Rogers (CLUW VP IAM), MD State Officers, Sherry McKnight and Chaé Carriere and far r. Tanya Hutchins (chapter treasurer).
The Chesapeake Bay (MD) chapter, received its charter at the National Executive Board meeting on May 3rd held at the Tommy Douglas Conference Center in Silver Spring, MD. NEB members voted to approve standing committee co-chairs and 15 committees met to map out a plan of work. One of those committees, Women's Health and Wellness, developed the following cancer prevention notice:
Prevent Cancer With HPV Vaccine
The CLUW Women's Health and Wellness Committee is concerned that vaccination rates for HPV (human papilloma virus) are lower than they should be in the U.S. Many strains of HPV cause infection and those that don't go away can cause cancer in both women and men. Prevention of cervical cancer and other cancers caused by HPV was a major project of CLUW sister Carolyn Jacobson. The vaccine is recommended at age 11 or 12. Only two doses of HPV vaccine are needed when given six to twelve months apart before age 15. The HPV vaccine prevents cervical cancer in women, and also anal, throat and other cancers as well as genital warts in males and females. The Women's Health and Wellness Committee urges all CLUW members to talk with their chapter, family and community members to encourage them to have their children immunized so they won't get preventable cancers.
For more information please visit:
Centers for Disease Control: Human Papillomavirus (HPV)
Healthy Women: How Many People Have HPV?