2018 Black Women's Equal Pay Day – Tuesday, August 7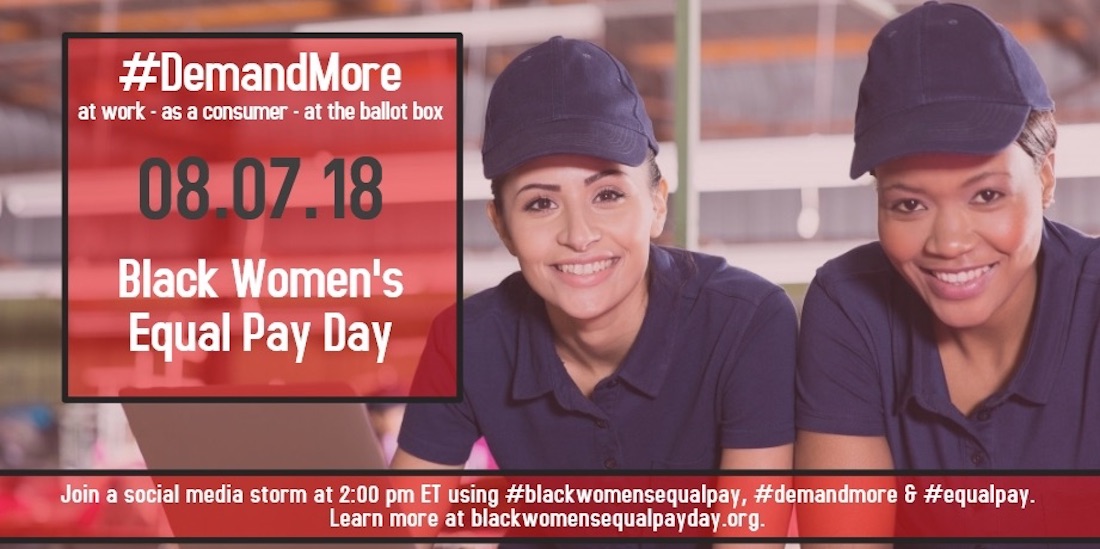 Achieving equal pay for equal work has been a CLUW goal since our inception and we are continuing to push the needle forward towards wage equality. As we persist in this struggle, we recognize the Equal Pay Days along the way, recognizing this August 7th as Black Women's Equal Pay Day.
When compared to White, non-Hispanic men, Black/African American women earn only 63 cents on the dollar. This means the typical Black woman must work until August 2018 to be paid what the typical White man was paid at the end of December 2017.
On August 7th at 2:00 - 3:00 pm ET CLUW will be co-sponsoring a Social Media Storm along with women's rights, labor and racial justice advocates nationwide to #DemandMore for Black women. We will use Black Women's Equal Pay Day as a reminder of how far we have left to go to achieve wage equality and educate others on the importance of this issue. Add your voice on Twitter, Facebook, and Instagram by using the hashtags #BlackWomensEqualPay and #DemandMore.
Here are a few tweets, but use your own also:
Black women's pay disparity is compounded by so many issues: from employment discrimination, gender and race-based bias, lack of pay transparency, to an inadequate minimum wage and tipped minimum wage, just to name a few. On this #BlackWomensEqualPay Day, Black women nationwide are demanding more for their contributions, their dollar and their vote. When Black women are paid fairly for their contributions, everyone wins.
Please join CLUW in getting involved this August 7th. Black women deserve better.
For more information please find the "Equal Pay for Black Women" resource by the National Women's Law Center here.