Passing of Joyce D. Miller. President Emerita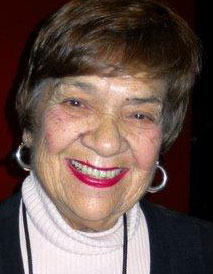 Coalition of Labor Union Women Obituary and Tribute to Joyce Dannen Miller
It is with a very heavy heart that we inform you of the passing of our beloved sister and founding member of CLUW, Joyce D. Miller, President Emerita (WORKERS UNITED/SEIU) who passed away on June 30th shortly after celebrating her 84th birthday.
Sister Miller was a first in so many ways and a constant inspiration to us.
She started life in Chicago and obtained her divisional social services master's degree with a major in education from the University of Chicago in 1951.
She held several positions during the next few years including as secretary/ receptionist and newspaper editor at the Cooperative League and as a substitute teacher in the Chicago school system.
Sister Miller got her first taste of working in the labor movement when she became the Education Director for the Amalgamated Clothing Workers in Pittsburgh, a position that was brief and led to some disillusionment after witnessing an internal union dispute.
After her marriage to Jay A. Miller in 1952 the couple moved to Cleveland where Joyce taught displaced persons. During her time in Cleveland she also took a job with Case Western Reserve University.
The couple moved to Altoona and Wilkes-Barre, PA. Joyce was a stay at home mom for a while but also interspersed that with teaching Psychology and Introduction to Sociology at Wilkes College.
In March 1962 Miller took a job with ACWA and became the Education Director of the Chicago Joint Board of the Amalgamated Clothing Workers Union that later became .the Amalgamated Clothing and Textile Workers Union.
The couple divorced in 1964.
She relocated to New York in 1972 to assume the position of Director of Social Services of the International Union and Assistant to the President; Secretary of the International ACWA and thereafter was elected as an International Vice President in1976.
While the Coalition of Labor Union Women was in its formation Joyce was the East Coast Vice President. She was a founding member of the Coalition of Labor Union Women and was instrumental in organizing its Founding Conference in 1974.
Miller was elected national president of CLUW in 1977 and held that position for 15 years until 1993 (its long serving president).
During Joyce's term the CLUW Center for Education and Research was established and one of its noteworthy initiatives was the Reproductive Rights Project, educating union women on their right to all forms of health care including abortion services.
Also during her tenure, a CLUW delegation visited child care centers in Israel, Sweden and France and later published a booklet on their findings on the general subject of child care.
Another noteworthy publication was "Absent from the Agenda" completed in September 1980 – a survey of women's representation within the leadership of the labor movement.
In 1988 CLUW was the sponsor of the American Family Celebration that called for a national family policy, with 50,000 union, civil, religious and women's rights activists in attendance.
In August 1980 Joyce Miller became the first woman elected to the all male AFL-CIO Executive Council.
In 1991 Ms. Miller wrote in "Women, Work and Union: Labor in the 1990s: ".. As women increasingly join the ranks of the labor movement and as they enter positions of leadership in it, they are renewing and redefining unionism….With their increased participation in unions, women are pressing for a more comprehensive agenda which will benefit not just union women but all union members and their families …"

In May 1993 Joyce retired from ACTWU and stepped down from the AFL-CIO Executive Council to accept the appointment as the Executive Director of the Glass Ceiling Commission under the Clinton Administration. This federal commission held hearings around the country collecting testimony from women on the status of female employment and investigating upward mobility of women in the workforce that culminated in a report on their findings.

She became a Special Advisor to the DOL Secretary Robert Reich at the conclusion of her work with the Glass Ceiling Commission.

Joyce later became a member of the Wage Appeals Board under the Department of Labor serving as a judge adjudicating wage dispute cases until 1998.

During her retirement Joyce had been active in labor related activities as well as the Women's National Democratic Club and she volunteered on the comment line for the Obama White House.

Joyce raised 3 children as a single parent: Rebecca – who followed her mother into the labor movement, Joshua, a college professor and Adam, an attorney. She has 2 grandchildren, Lillian, 13 and Sarah, 11.

Over the years she was recognized with honors and awards. What follows is a sampling:

May 1978: Midwest Labor Press Association presentation of Eugene V. Debs Award to the first woman recipient. The award is given annually to a person who exemplifies the spirit of Debs, the great union leader of the 20th century.

June 7, 1979: David L. Clendenin Award. Distinguished Service to Labor's Rights- Workers Defense League

May 7, 1981: Recipient of the Florence Criley Award by the Chicago CLUW Chapter

October 9, 1985: Pioneer Women Na'amat Celebration of Women Award

June 19, 1993 Americans for Democratic Action: For her work on behalf of working women

In March 2010 CLUW Executive Director Carol Rosenblatt interviewed Joyce Miller as part of the March 2010 CLUW Working Women's Award Celebration. Joyce was an award recipient

Joyce D. Miller's responses are indicative of her world view:

When did you first walk in a picket line – where/when/what job action? What was your impression?

I was first involved in the Farrah (Farrah Pants) strike and organizing effort which lasted for 18 years. I was in El Paso and San Antonio, TX. I walked the picket line and did whatever was necessary to support those that were picketing. This took place during the 1970's. The workers were very brave, courageous and received substandard wages. This strike was the story that was told in the movie "Norma Rae" There was an 18 year struggle to organize the workers.

What is something that no one else knows about you that added to your growth as a leader?

My background was in education and for my master's degree I wrote on the role of the residential school in labor education and used the UAW model in Port Huron, Michigan. After World War II I taught English in a displaced workers program that was held in the union building of the RWDSU (Retail, Wholesale, Department Store Union). This early experience of contact with a union environment helped me to know that I wanted to become a union leader.

Services were held for Joyce Miller at the Washington Hebrew Congregation on July 2nd in Washington, DC.

On October 9th the Coalition of Labor Union Women, Workers United/ SEIU, and the AFL-CIO hosted a memorial/tribute to Joyce Miller at the AFL-CIO headquarters in Washington, DC.

Our thoughts and prayers are with her family and friends and with her CLUW family also. Our sister Joyce was a treasure to us and will never be forgotten.

Please see other Obits in the New Your Times, The Washington Post, the LA Times, Talking Union Blog and Jewish Women's Archives that follow.

Talking Union Word Press Article
There are also images from the Joyce D. Miller Memorial in the Photo Gallery.