CLUW Members Grow at Sisters Not Afraid of Power Women's Leadership Skills Conference
From April 30th to May 2nd of this year CLUW held a very successful two and a half day "Sisters Not Afraid of Power" Women's Leadership Skills Conference at the Tommy Douglas Conference Center in Silver Spring, MD. The conference was held in conjunction with a National Executive Board meeting and Working Women's Award Celebration with 150 people registered for the events.
The conference was designed to give attendees skills to play prominent roles in their unions, CLUW chapters and their communities. The training included plenary sessions as well as Effective Leadership Training Sessions developed specifically for the members of CLUW. These training sessions focused on understanding the CLUW constitution, finances, how to run effective meetings, organizing and outreach and were very well received with over 75% of attendees rating the sessions as "excellent''.
In addition, attendees were able to choose elective workshops that included a workshop on running for office that Denisha Dean (APWU) noted "was great for personal growth in the public eye. Great tips and pointers for campaigning." Another workshop on #MeToo and the labor movement was called "very welcoming and intimate" by Kandy Ross (UAW) who said she "loved sharing stories and hearing everyone's experiences." Regarding a 'Power to the People' workshop, Eugenia Jones-Boyd (UAW) said she really enjoyed it and "learned how to make a greater impact when planning demonstrations and rallies."
Overall, the conference exceeded its goal to provide knowledge to rebuild our chapters, strengthen our network support and prepare everyone for the challenges facing the labor movement today, including the 2018 elections. It provided a supportive learning environment where veteran members of CLUW and newcomers were able to learn from each other. To read the full event program click here.
Watch the video above to hear what young workers Crystal Herrera (IBEW) and Jeanette Geter (SEIU) had to say about why they attended the conference. Thank you to CLUW Media Committee member Tanya Hutchins (IAMAW) for the video production.
To read more about the other events CLUW held the week of the conference click the links below:
May 3rd National Executive Board Meeting
CLUW's 5th Biennial Working Women's Award Celebration
Young Sisters Not Afraid of Power Rally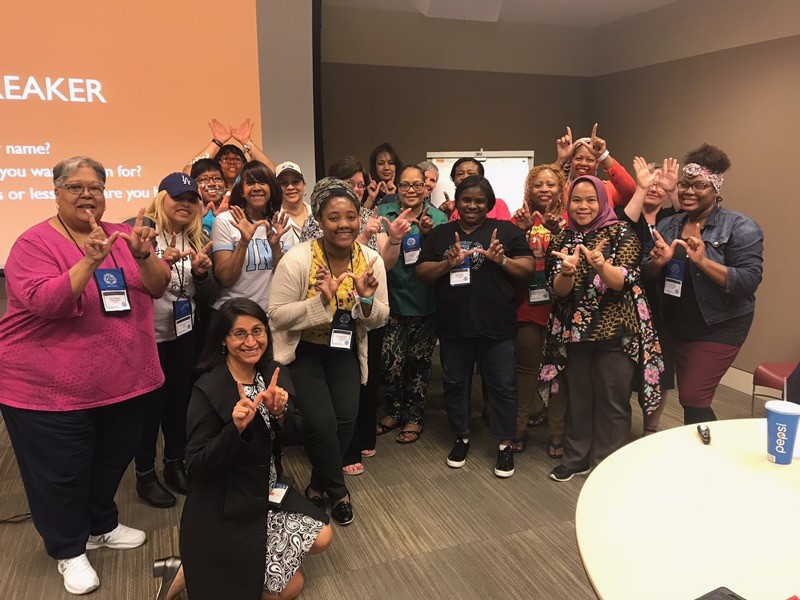 Attendees of the Run for Office, Not for Coffee workshop
For more pictures check out the photo gallery for the conference here.