CLUW AFL-CIO GOTV Woman to Woman Postcard Campaign Happening NOW!!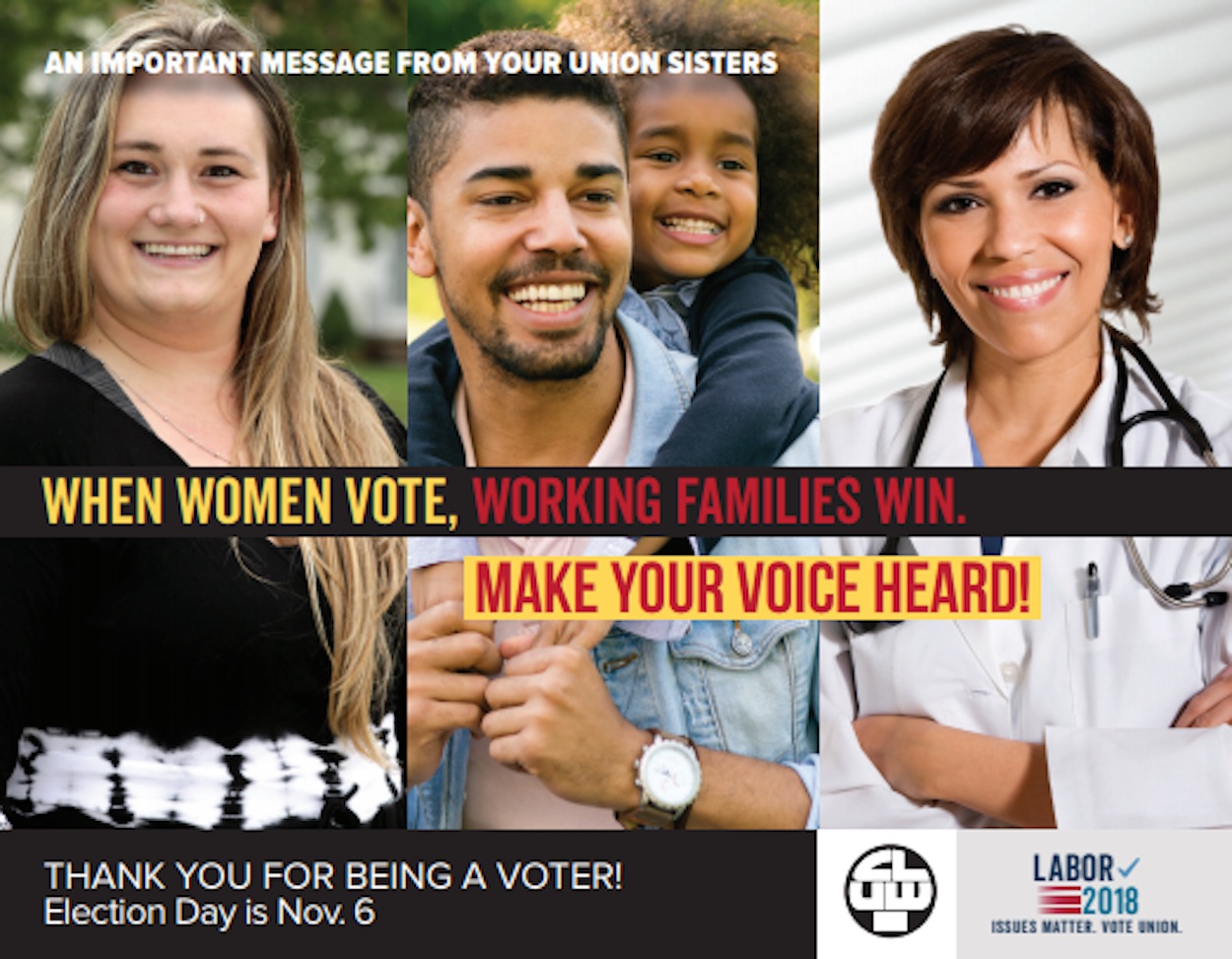 CLUW is partnering with the AFL-CIO on a woman to woman GOTV postcard campaign where CLUW members, friends and supporters will address postcards to union women voters and write personal messages on the postcards, urging women voters to go out and vote. The postcards will be sent to union women in states that have been targeted because of their importance in races that impact women and families: Georgia, Nevada, Connecticut and Minnesota. You do not need to live in these states to participate in the campaign.
This is a wonderfully easy and effective non-partisan action as research shows that handwritten notes are one of the most powerful ways to get voters to the polls on Election Day. You already know the importance and the anticipated impact of the women's vote in 2018 as well as the incredibly large number of women candidates who support the issues that CLUW supports.
You will distribute the cards to your network (see below for suggestions), make sure the completed cards (postage provided) are mailed out in time and that you follow the simple instructions in the kit you will be receiving.
Host a party at a coffee shop or at a community center and discuss the importance of the working women's vote and how that and the increased number of progressive, pro-labor women running for office can turn the country around.

Include the post card project as part of a CLUW meeting or activity.

Host a card writing event at your work site during a lunch break with co-workers.

Host an event in your apartment complex.

Coordinate an event with an organization that you have worked with such as NOW, etc.
Complete the information here to order the postcards (there are 30 postcards in a box).
CLUW Chapter Presidents, State Leadership and National Officers have already received this information so you should check with them to confirm whether they have already placed an order for your area.
This campaign was just approved. You must complete the online form by FRIDAY, OCTOBER 19 by 9 AM ET. Cards should be in the mail to the recipients no later than November 1st.