Gloria T. Johnson Women in Union Leadership Scholarship Program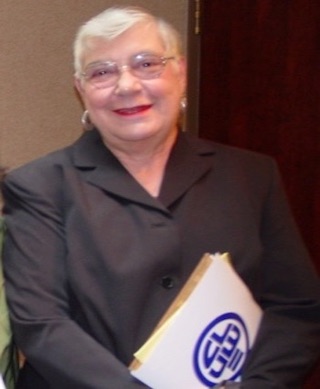 Gloria T. Johnson in June 2002 at CLUW National Executive Board meeting, Washington, DC
Gloria Tapscott Johnson was CLUW's president from 1993 until 2004 and previously the national treasurer for seventeen years. She was a founding member of the Coalition of Labor Union Women. Please see more information about this inspiring leader here.
The purpose of the Gloria T. Johnson Scholarship Program is described in one of CLUW's founding principles — to "encourage and increase women's active participation in their unions" through support of women who want to learn and/or develop leadership skills. The program is designed to build and support a mentoring system that will help young women learn new skills so that they will be prepared to take leadership roles in their unions.
The Gloria T. Johnson Scholarship Program will provide a scholarship (or reimbursement) for costs of classes taken through an accredited labor studies program (up to $1,000) to build mentoring skills for a union woman willing to serve as a mentor. The winner of the scholarship will agree to serve as a mentor to a young woman (or women) and/or an internship (at least 6 months in length).
The program is designed to inspire, provide support and be a complete experience for the scholarship winner as well as for a young woman (or women) who will be mentored or gain experience as an intern. The scholarship is available to union women and the children of union women (CLUW members and their children shall be given priority in the selection process).
Please see a more detailed description along with the application here. Application deadline is September 1, 2019.