Coalition of Labor Union Women Spring National Executive Board Meeting and Lobby Day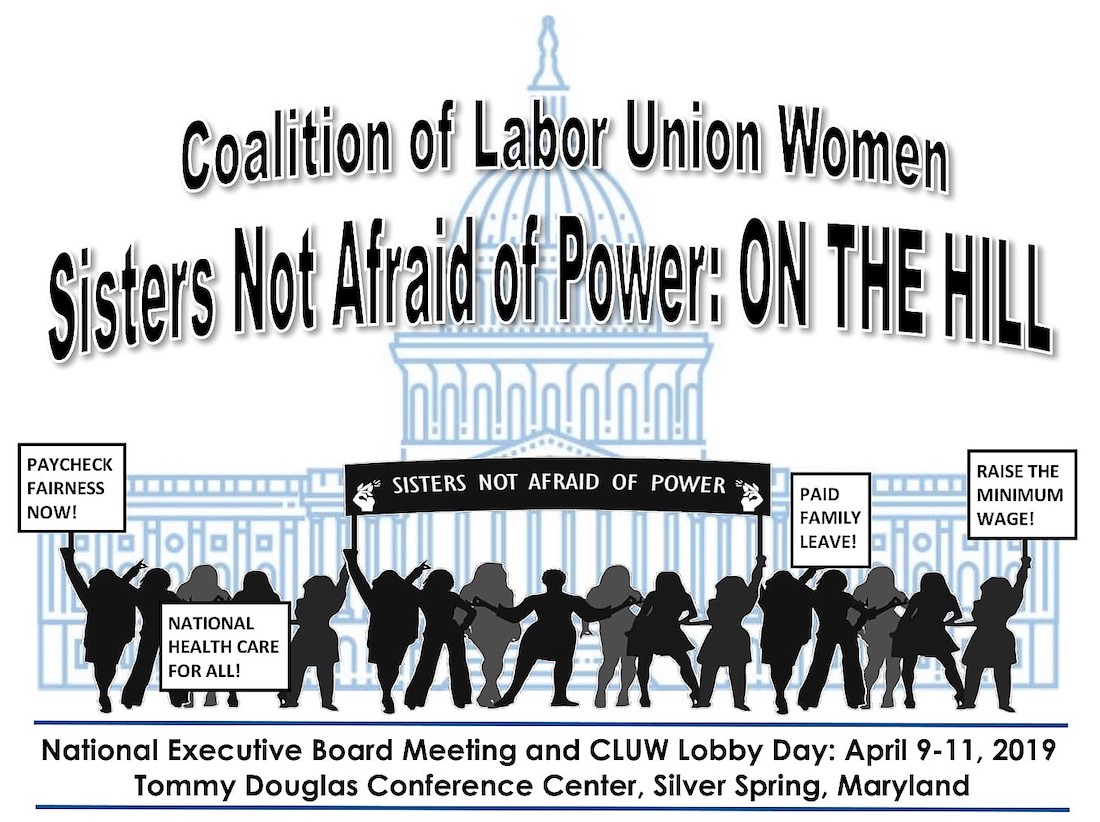 ---
Join CLUW at the upcoming National Executive Board Meeting and Sisters Not Afraid of Power: On the Hill Lobby Day taking place April 9-11, 2019 at the Tommy Douglas Conference Center (TDCC) at 10000 New Hampshire Avenue, Silver Spring, MD 20903. All CLUW members (including those who are not members of the NEB) are welcome to attend the board meeting as observers and join in the Lobby Day (more information on the Lobby Day can be found below). See Tentative Agenda here.
The registration form in PDF and WORD documents are available here and must be completed and turned into the CLUW office. Payment for Lobby Day attendance should accompany your registration by check or through online credit card. Registration Deadline is: March 27, 2019.
Commuters (not staying overnight at the TDCC) will be responsible for the registration fee and can purchase meals on site in the conference dining room by individual credit card.
Room rates at Tommy Douglas Conference Center are: Single Occupancy: $179.00; Double Occupancy: $269/$134.50 per person (2 occupants required). All rates are subject to 6% MD sales tax and 7% county occupancy tax. Room reservations should be made no later than March 27, 2019 under the Coalition of Labor Union Women (CLUW) Room Block by calling 240.645.4000 from 9 AM till 5 PM ET Monday thru Friday or via E-mail guestservices@tommydouglascenter.com. A deposit of one-night's room charge is due with each reservation. Failure to cancel at least 48 hours prior to the reservation will result in forfeiture of advance deposit or one nights's room and tax billed to the credit card. Check-in is after 3:00 PM and check-out is before 11:00 AM.
The conference center is deluxe dormitory style with free wireless in guest rooms and public spaces, free self-parking and access to fitness center and recreation room. A lounge with bar and snacks is on campus. The room rate includes two (2) meals per overnight guest. Dinner is available from 5:30 till 7:00 PM on 4/8 and 4/10; lunch is available on 4/9 and 4/11 (11:30 AM till 1:00 PM); breakfast is available 4/8 - 4/12 (7:30 till 9:00 AM). If you check in after the last meal time (above) you can pick up a boxed meal at the front desk. You will be responsible for other meals either in the vicinity or in the dining room (credit cards accepted) or on Capitol Hill (Lobby Day).
CLUW Lobby Day Wednesday, April 10
Individual appointments must be scheduled with your representative and senators and should be arranged from 10:30 AM and completed by 2:30 PM.
Information on the House of Representatives can be found here and information on the Senate can be found here.
Please complete the Lobby Day information on the pre-registration form and return it to the National CLUW Office as soon as possible.
The Lobby Day Tentative Agenda includes an issue briefing, lobby tips and de-briefing at the end of the day. Legislation under consideration for Lobby Day: the Paycheck Fairness Act, Raise the Wage Act, FAMILY (Family and Medical Insurance Leave) Act and Medicare for All Act of 2019. You can find background information by accessing the POPVOX website here.
The following resources include helpful information about the lobbying process: Grassroots Lobbying Basics and Grassroots Advocacy and Lobbying.
Closest airports: Baltimore/Washington International Thurgood Marshal Airport (BWI) and Reagan National Airport.
Contact the CLUW National Office if you are seeking a roommate or want to share a room by calling 202.508.6969 or via E-mail: CLUW@cluw.org.