CLUW Celebrates Women's History Month!
March is Women's History Month and the perfect time to prioritize learning about and passing on the stories and accomplishments of women whose voices have shaped our country and the labor and feminist movements.
Women's History Month was adopted through a national effort in the 1970's and 80's to urge schools to include women's achievements in their curriculum. Activists then used that momentum to push local, state and eventually the federal government to recognize the necessity of no longer leaving women out of the history books (Why March is National Women's History Month). In 1987, Congress declared March as National Women's History Month in perpetuity.
Women's labor history is especially rich. In fact International Women's Day, which now takes place on March 8th, grew out of the American socialist movement of the early twentieth century. It began as a commemoration of the New York City garment worker strikes in 1908 which were ongoing for more than a year (Why International Women's Day is March 8th). These strikes saw thousands of working women standing up for fairer working conditions and recognition of the value of women's labor and humanity.
For a list of other key moments in women's labor history view this timeline put together by AFSCME here and visit the National Women's History Museum resources website page for tools to help pass along this history.
In celebration of the month, National CLUW is co-sponsoring the phenomenal multi-media women's labor history project "We Were There". The show was written by Bev Grant and will be performed by her along with a cast of women leaders and activists from the DC area playing important, yet often overlooked, leaders from women's history.
Bev Grant is a labor and social activist, singer-songwriter, and photographer who has won multiple awards for her work including the 2017 Joe Hill Award from the Labor Heritage Foundation for her work as a cultural worker. Additionally she was the 2017 winner of the American Society of Composers, Authors and Publishers Foundation's Jay Gorney award for the title song of "We Were There" which she wrote as the cultural director of the United Association for Labor Education NE Union Women's Summer School.
As the current founder and director of the Brooklyn Women's Chorus and the former leader of Human Condition, a cutting edge folk/rock & world music band which recorded their first album "Working People Gonna Rise" in the early 60's, Grant has always used her music as an avenue for change. Additionally she has utilized photography to document key moments in the labor and early radical women's movements of which she was a part, including the Poor People's Campaign, the Miss America Beauty Pageant Protest in 1968, and the W.I.T.C.H Hex on Wall Street. Her online photo gallery can be viewed here and music website here.
Women like Bev Grant keep women's labor history alive and make new history through their accomplishments and activism. CLUW is proud to spotlight her work for Women's History Month. "We Were There" will be held at the AFL-CIO headquarters in Washington DC on March 28th. See flier for full details here.
How are you celebrating Women's History Month? Let the CLUW National office know what your CLUW chapter or union local is focusing on this month by emailing CLUW@cluw.org and we will try to feature it on our website. Thank you!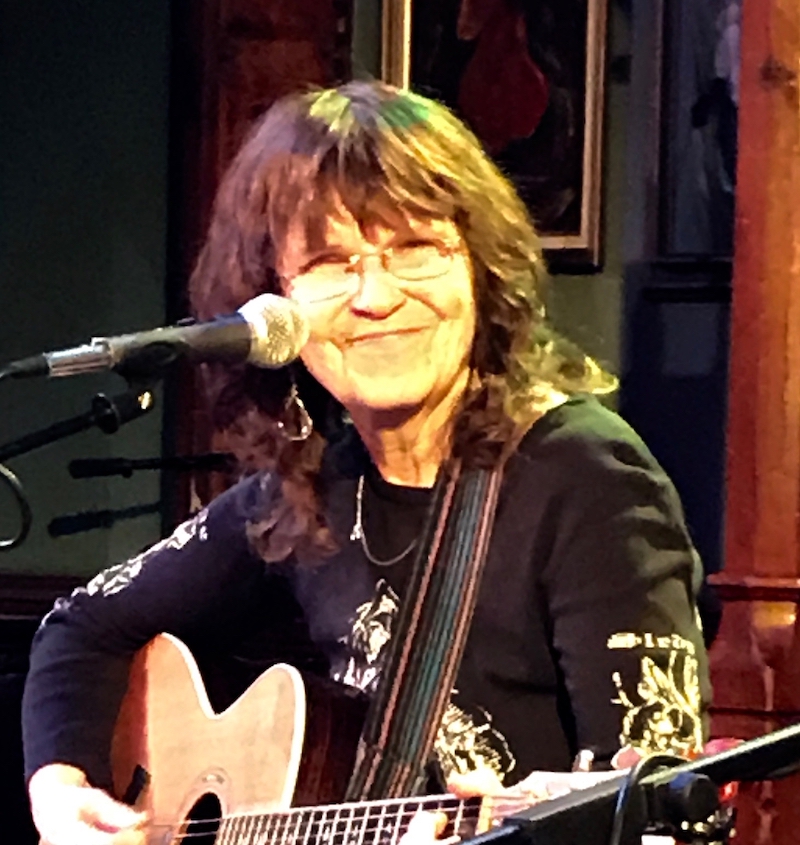 Bev Grant performing in "Women's Work"at the Howland Cultural Center in New York, on April 15, 2018