Coming Together to Change the World
Liz Shuler at the CLUW Convention
CLUW's 20th Biennial Convention featured stimulating, energizing keynote speakers who shared what the convention theme "Coming Together to Change the World" meant to them.
On October 17th Liz Shuler, Secretary-Treasurer of the AFL-CIO informed the delegates that the labor movement is the largest movement (7 million) of working women in the country. She expressed that, "This is a moment in this country, in our movement where working people, especially women are taking risks, they are rising up collectively now more than ever before. Every movement that I see out there .. there are women on the front lines." As far as the #MeToo movement, she emphasized that…. "We have been fighting sexual harassment for decades. We've been using our collective bargaining agreements and our contracts to fight against it.…. We are a voice for all working women…Fighting sexual harassment is fundamental for the labor movement, that goes for the work place but also within the labor movement itself ." She ended by encouraging union women to run for office.
Later that day Linda Chavez-Thompson, who broke barriers by being the first person of color to hold one of the 3 highest offices of the AFL-CIO, shared that from humble beginnings on a cotton farm making 30 cents an hour as a child, she started her career in the labor movement when she was hired as a secretary by a Laborers' Local. After years of activism with AFSCME in Texas she became the first Executive Vice President of the AFL-CIO. She related her experience as a candidate for Lt. Governor of Texas, concluding that politics cannot do without the Labor Movement and the Labor Movement cannot do without politics.
The following day Sara Nelson, International President AFA-CWA shared her first days as a flight attendant when she had to fight for her pay and learned first hand the importance of the union. She put forth that, "The bosses have used sexism, racism, homophobia, and any difference to try to divide us. But who has been rising up? It has been women and women led professions. It has been teachers, hotel workers, grocery workers…The ruling class puts rules in place, civility, decorum to hold us back. They give us just enough to make us think we have something real to lose. If we are not willing to break those rules they will continue to take until there is nothing left….So I want you to remember .. when men say women are too emotional to lead, you remember that your emotion is your superpower."
The convention ended with one of labor's heroines, Dolores Huerta, Co-Founder, United Farm Workers, and Founder and President of the Dolores Huerta Foundation. The delegates viewed the documentary "Dolores" and were looking forward to seeing and hearing her in person. She told them that she was at the founding convention of CLUW. She discussed many of the battles of today including that when the right wing attacks women, LGBTQ and people of color on cultural issues it is way to avoid talking about the real issues - economics and income inequality. She spoke about the importance of labor and without labor there is no middle class or a democracy. She affirmed that women must have the right to an abortion and that we should not be afraid to have those conversations. And that women must run for office. She stressed the importance of everyone being counted in the Census and that for each person counted, $2000 is available to better communities. Ending with a rousing Sí Se Puede!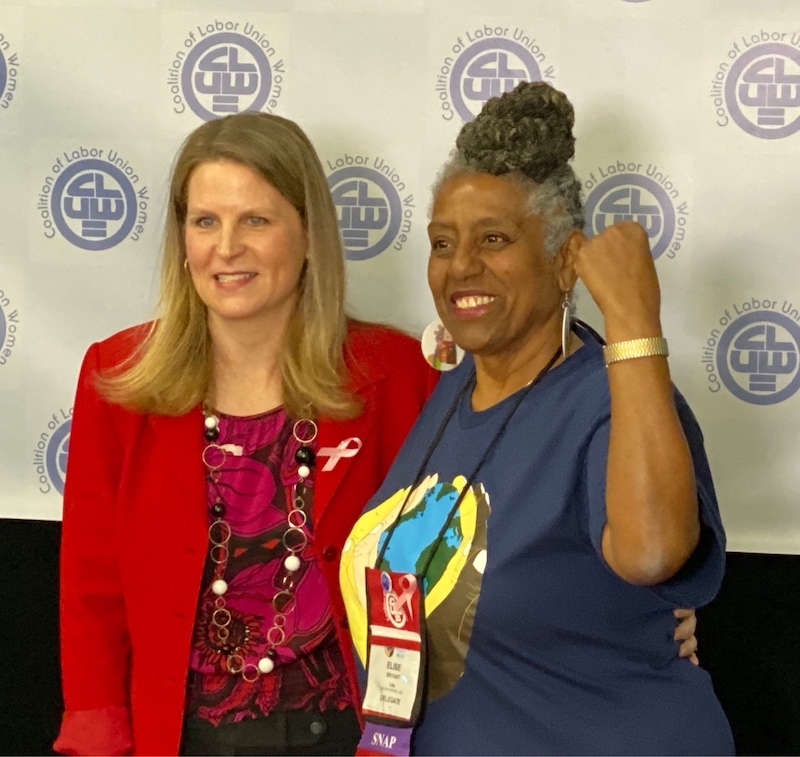 Liz Shuler and Elise Bryant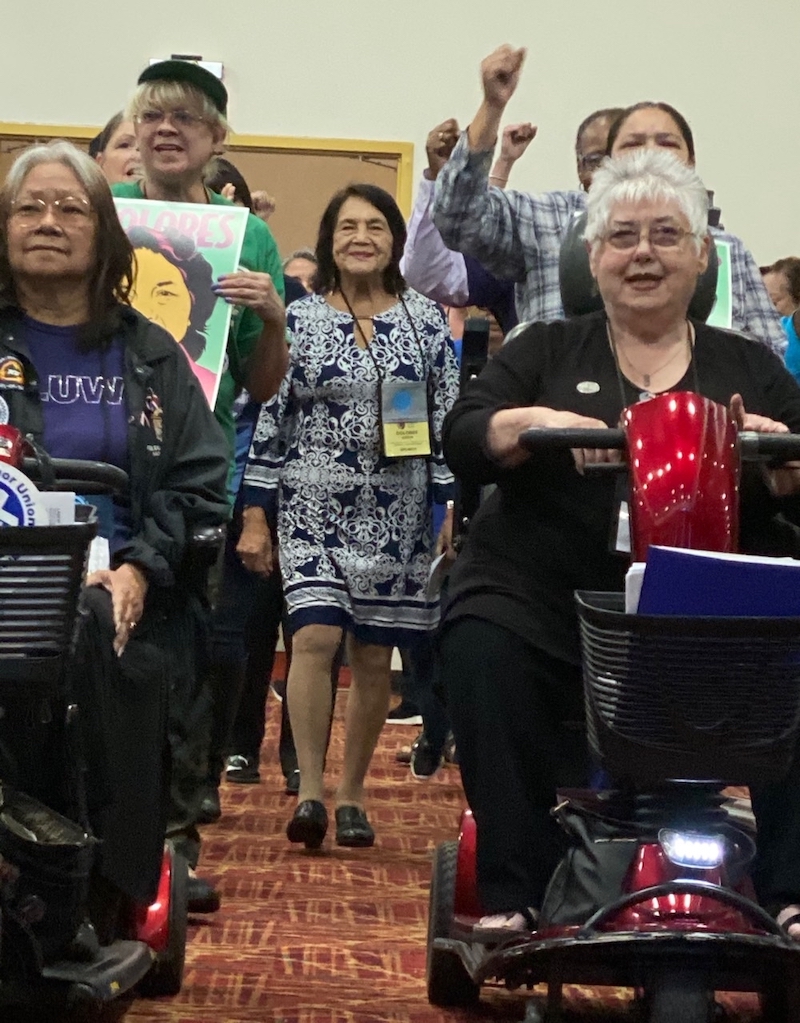 Dolores Huerta with LA CLUW members Maggie Cook and Jerilyn Stapleton on scooters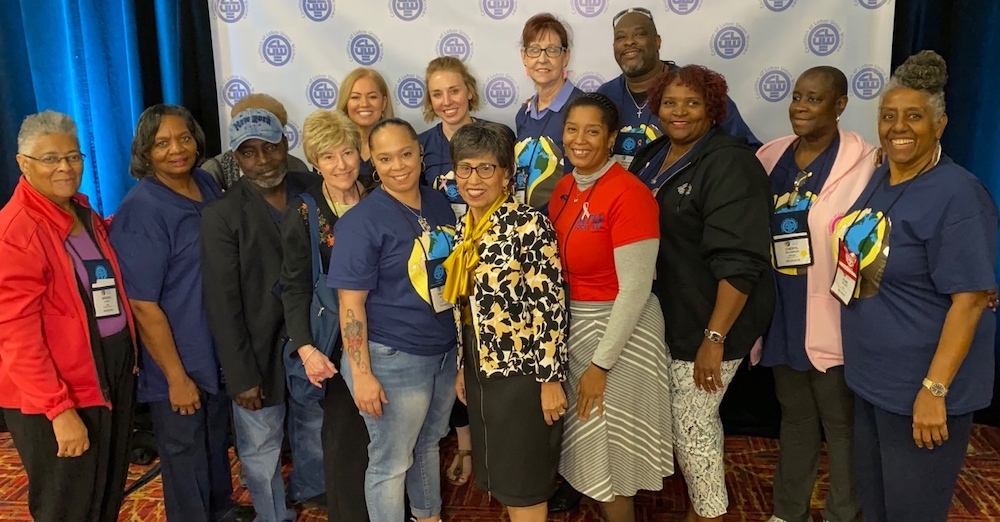 Linda Chavez-Thompson (center) and Elise Bryant at end with CLUW members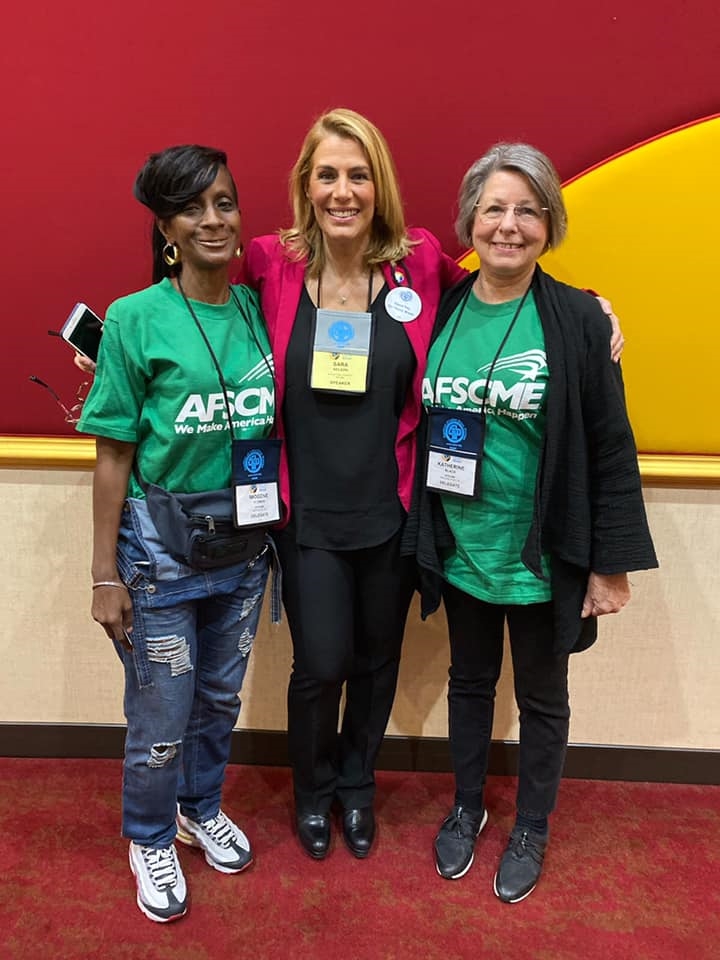 Sara Nelson with CLUW/AFSCME sisters