Dedicated CLUW Member Davida Russell Wins Election for Cleveland Heights City Council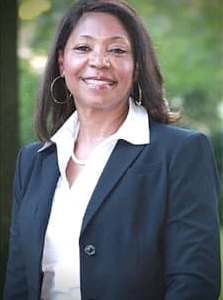 Davida Russell has been a dedicated CLUW member for over 25 years holding several different leadership positions and currently acting as the OH State President of CLUW. Additionally she has been a leader in her union, Ohio Association of Public School Employees (OAPSE/AFSCME), taking on many different roles throughout her years. In November 2019 she ran a highly successful campaign, her first time running for office, and won a seat on the Cleveland Heights City Council.
Davida always wanted to run for office but it always seemed to be 'someone else's turn'. So when the opportunity came up with a vacancy in the Cleveland Heights City Council she was not going to let another chance pass by. By utilizing the skills of her core supporters, Davida was able to get the 671 signatures she needed to run in just 13 days. As a school bus driver and substitute teacher, she ran as a regular worker connecting with constituents by going door to door asking what they needed. She developed her platform based on these conversations, focusing her campaign on creating safe communities, transparency, and a government that listened. With this strategy, she ended up winning with a strong majority and is now using her platform to fight to make those goals a reality.
While her campaign was successful, it was not without its challenges and Davida has much to share with other union women who are thinking about running for office. First, she says, make sure it is truly what you want as there will be many who try to discourage you. You need to be confident in your reason for running and your ability to do the job. Working with less resources is a challenge and Davida counted on the support of her close family and friends as the backbone of her campaign. She recommends making sure there are always action items for people to sign up to do at every meeting or fundraiser.
However, she warns, many people will talk about support but not follow through when the time comes. This is something to be aware of and plan for but not something to get discouraged by. Davida feels that this could be minimized in CLUW if our organization was not stuck in the box of being non-partisan. She feels this was a hindrance to getting the full support she would have wanted from CLUW as an organization. This is an aspect of CLUW that has been up for debate in recent years and races like Davida's can be a case for allowing CLUW to endorse political candidates which is currently against the CLUW constitution.
Overall, the success Davida was able to have with the small amount of resources she had access to is very impressive and something to learn from. She will be teaching a workshop at the upcoming CLUW Women's Leadership Skills Conference with tips for union women considering running for office. Please register for the upcoming Conference here if you are interested in participating.