CLUW's 47th B-Day Celebration, "We Were There"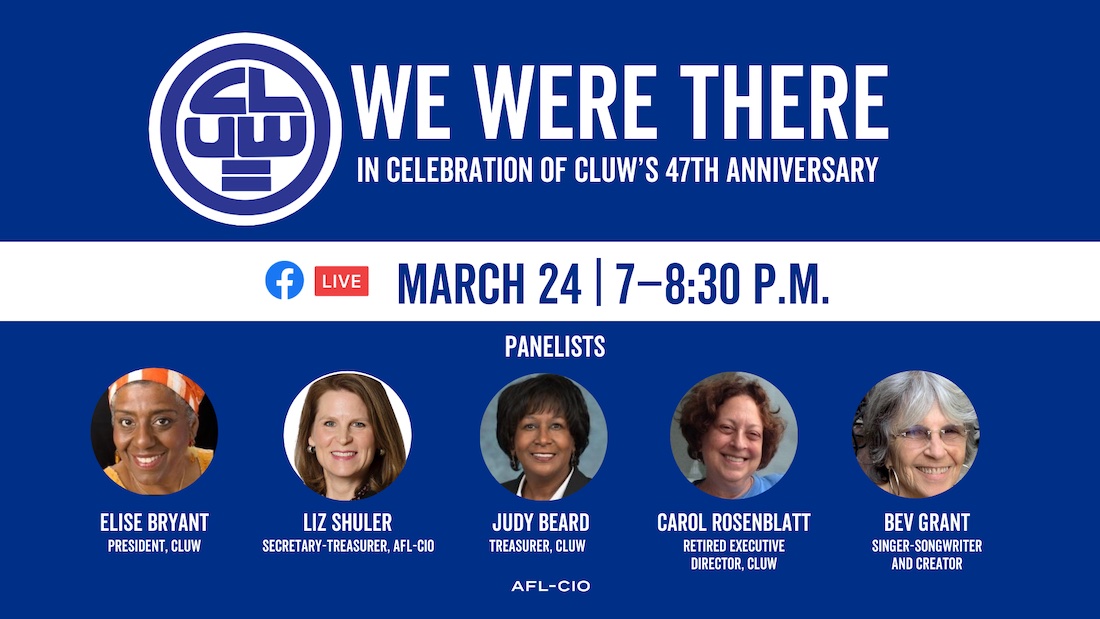 CLUW President Elise Bryant shared the following words:
TONIGHT, March 24, 2021, at 7 - 8:30 PM ET/4 - 5:30 PM PT: The Coalition of Labor Union Women is America's only national organization for union women and we will celebrate our 47th anniversary with an awards ceremony honoring Carol Rosenblatt, retired CLUW executive director, with the "Lifetime Achievement Award." AFL-CIO Secretary-Treasurer Liz Shuler will bring greetings and CLUW Treasurer, Judy Beard, who attended the founding convention, will call the names of founding members who are still with us.
Please click here to RSVP for We Were There! A link to the live stream will be sent to all registrants an hour before the event.
We will conclude the celebration with the annual performance of "We Were There", a musical play about our s'heroes — the women, past and present, on whose shoulders we stand. "We Were There" was written, produced, and directed by Bev Grant. Bev is a singer/songwriter and winner of the Labor Heritage Foundation's Joe Hill Award for Lifetime Achievement.
Additionally, the program will play on CLUW's Facebook page live! Please click here to join the live stream of We Were There at 7 - 8:30 PM ET/4 - 5:30 PM PT.
The s'heroes in "We Were There" will be read by women leaders and activists including S-T Liz Shuler, Hetty Scofield, Alvina Yeh, Yanira Merino, Robyn Robbins, Lynda DeLoach, Shanna Peeks, Yolanda Medina, Patricia Martinez, Cathy Feingold, Tanya Hutchins, Sujatha Blackstone, Tsika Pasipanodya, Colleen Kattau, and Liliana Herrera.
Thank you for reading and celebrating our 47th anniversary tonight!