New Leadership Team at the AFL-CIO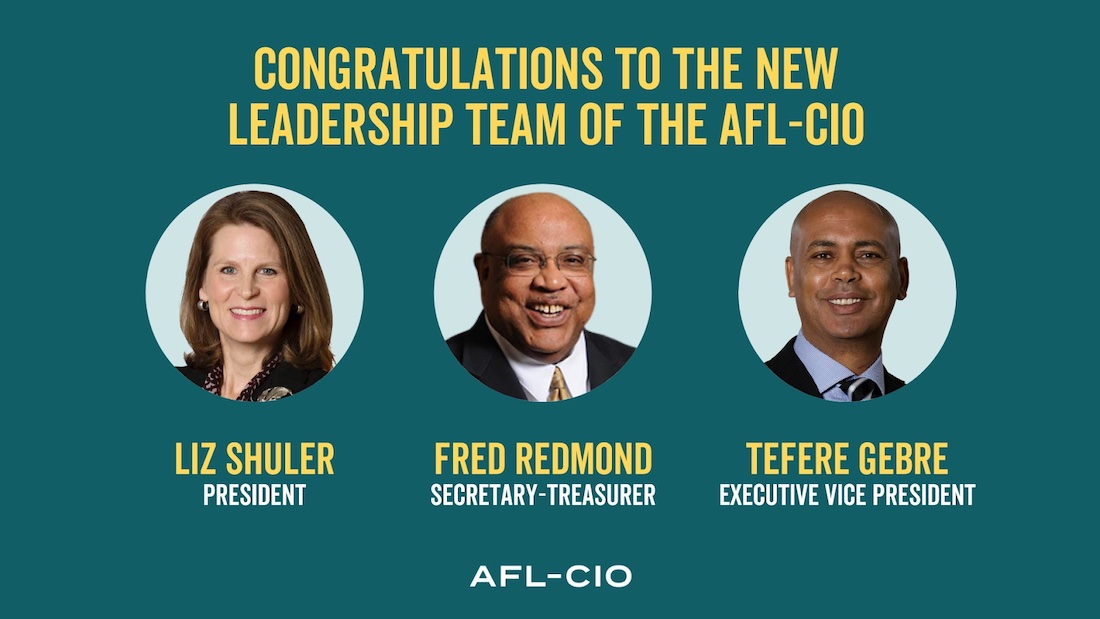 Elizabeth Shuler Elected as First Woman AFL-CIO President in Historic Vote
Fred Redmond Joins Team as Secretary-Treasurer
---
Washington, DC, August 20, 2021 – Today the AFL-CIO Executive Council took action to fill the seat left vacant by the death of Richard Trumka (UMWA) on August 5 who had served as its president since 2009 by electing Liz Shuler, the AFL-CIO's Secretary-Treasurer since 2009 and previously longtime IBEW union organizer, legislative/political international representative and assistant to the international president. In response to her election today, Shuler expressed, …"There's no doubt about our direction. We're moving forward, to a future defined by and for working people. The path we're paving is wide and accessible – everyone is included, no one's left behind. Our power to get there depends on moving as one. It depends on our unity."…
During Shuler's tenure as Secretary-Treasurer she not only oversaw the AFL-CIO's finances but also promoted the leadership of women within the labor movement and was an outspoken supporter of the needs of working women on the job. She reinforced working women's issues were union issues; whether they be equal pay, the need for paid leave, fighting pregnancy discrimination or unpredictable schedules. She frequently reminded anyone who would listen that there are 6.5 million women in the AFL-CIO so that makes it the largest organization of working women in the entire country.
Sister Shuler was an energetic campaigner for progressive pro-labor women candidates and encouraged union women to run for office.
The Coalition of Labor Union Women has always considered Liz a staunch supporter and was pleased to have her address its members as she did at its most recent convention in October 2019. She can be found on picket lines as she was for the Chicago Teachers Union and UAW in 2019 and is quick to show her support as evidenced by one of her recent tweets to other worker struggles: "All workers on strike including Nabisco @BCTGM members, Warrior Met @MineWorkers, and St. Vincent Hospital @MassNurses, deserve a fair contract now".
Also today Fred Redmond (USW) International Vice President was elected to the position of AFL-CIO Secretary-Treasurer, the first African American to hold this position. Redmond has been a USW member since 1973 and served in various leadership capacities including overseeing the Civil and Human Rights Department. He has been a supporter of all of the AFL-CIO constituency groups over the years.
Tefere Gebre will continue as executive vice president. All terms run until June 2022.
Upon hearing of this exciting diverse team that will lead the federation of 56 unions and 12.5 million union members, CLUW President Elise Bryant enthusiastically remarked, "Congratulations to our newly elected president of the AFL-CIO, Liz Shuler! President Shuler is a long-time supporter and member of the Coalition of Labor Union Women. Liz welcomed me into her former office of Secretary-Treasurer even before I became president of CLUW. There is no doubt in my mind that Liz Shuler is a SNAP — a sister not afraid of power and will be an outstanding leader for the labor movement in the U.S.A.
Congratulations also to Brother Fred Redmond, our newly elected Secretary-Treasurer of the AFL-CIO. I've known Fred for years in his capacity as the United Steelworkers of America Vice President for Human Affairs. There is no doubt in my mind that Brother Redmond will continue his work to make the labor movement more inclusive to women, people of color and immigrant workers.
Shuler, Redmond and Gebre — what a team! Brother Rich Trumka is smiling down from heaven!"