Marjorie Rachlin (1922 – 2021): Sister, Mentor, Friend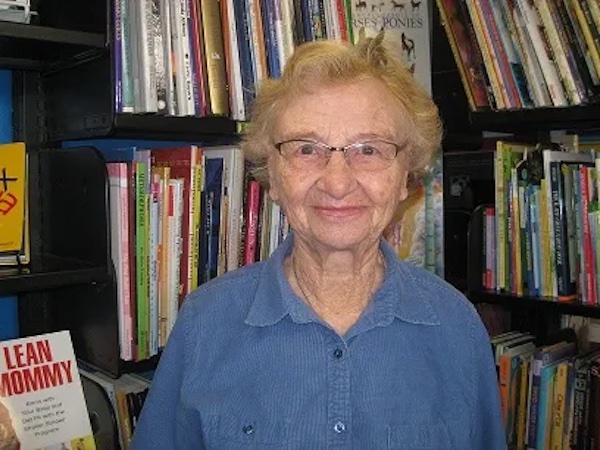 Marjorie Rachlin passed away peacefully at her home in the District of Columbia on August 22, 2021 at the age of 99. Marge dedicated her life to the labor movement, women's rights and the environment.
She taught at the George Meany Center for Labor Studies in Silver Spring, Maryland from 1970 to 1986, where she was one of the founding staff. Over the years she ran programs on teaching techniques for officers and staff of various unions and led leadership programs for women union members. Elise Bryant, CLUW President remarked that, "Marge Rachlin was my CLUW sister and my mentor. I had the honor and privilege of working with Marge at the George Meany Center/National Labor College when I moved here in 1997. Marge was the lead instructor for the class and I felt deeply honored when she turned to me and said, "I can retire now with a clear conscience knowing that I can pass the baton on to you." I commit to following Marge's example to mentor others and to pass the baton to the next generation of women leaders."
Marge began her union career in labor education on staff of the Joint Board, Textile Workers of America, CIO in New Jersey in 1947. She later worked for the International Union of Machinists out of Washington D.C. She consulted and taught for many unions, including the Association of Flight Attendants, into the 2000's.
Marjorie also contributed to the larger fields of labor research and education. She was granted a Fulbright Scholarship in 1953 and studied the relationship between British unions and the British Labour Party. In 1968, she and Larry Rogin published "Labor Education in the United States," the first survey of the entire range of labor education offerings in the country.
In 1988, she was recognized for her contributions to the Southern School for Union Women with the establishment of a scholarship in her name. Marjorie helped bring the Southern School to life in 1976, which led to the education of thousands of Southern union women. Marge's passionate work for the rights of women also included active participation in the Coalition of Labor Women (CLUW); support of women's causes and women candidates for office; and mentorship of countless women in and out of the labor movement.
After retirement, Marjorie followed her love of nature to bird and to garden; to volunteer at the National Zoo; to advocate for bird habitats; and to write nature articles. She brought her legendary intellectual curiosity and leadership skills to book clubs, art museums, community organizations, and social and political causes.
Born in 1922 and raised in a Cleveland business family, she earned her B.A. in English summa cum laude at Wells College. She moved to New York and found work editing for a publisher of labor and leftwing material. There she encountered a labor union periodical that led to her career of over fifty years in the labor movement.
Her husband Jack passed away in 2017. She is survived by her sister Nancy B. Allchin and nieces and nephew, Carol, Nancy Joy, and Douglas Allchin. She will be missed by her great-nieces and nephews along with countless others of all ages whose lives have been enriched by her love, guidance, and example of audacious and outspoken advocacy for truth.
Here are the details of the memorial service for Marjorie Rachlin:
Wednesday, September 22, 2021
11:00am – 2:00pm, including reception
Woodend Sanctuary & Mansion
8940 Jones Mill Road, Chevy Chase, MD 20815
The outdoor gathering will take place rain or shine. Carpooling is suggested due to limited parking. Colorful or flowered attire is encouraged. Please wear a mask. The courtesy of a reply is requested to help with planning: NJallchin@gmail.com.
In lieu of flowers, contributions may be made to Bread for the City, Southeast Center, 1700 Good Hope Road SE, DC 20020 or to the Community Services Agency of the Metropolitan Washington Council, AFL-CIO, 815 Black Lives Matter Plaza, NW, Washington, DC 20006.
Online Condolences can be made here.