Women's Leadership Skills Conference: Great Success!! No Time Wasted to Hit the Ground Running!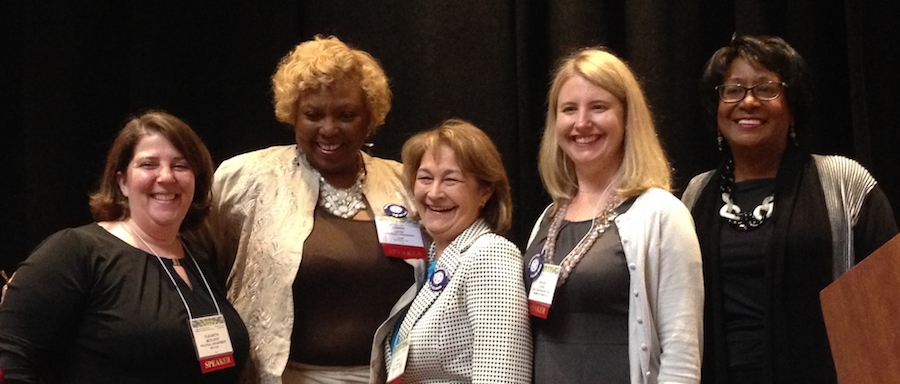 l-r: LizMcElroy, Connie Leak, Terry O'Neill, Rachel Lyons and Judy Beard
CLUW's Conference: " Where Do We Go From Here: The Path Continues" had been in formation for months but who knew what to expect after the recent election results? We were thrilled when 225 conference attendees and subject matter experts arrived in Las Vegas for 3 days (November 14-16) of empowerment, hands on education, skills building, election analysis, grappling with issues confronting women and making plans for the future.
The opening plenary started with a welcome from President Connie Leak followed by a warm greeting from Rusty McAllister, Executive Secretary-Treasurer of the Nevada State AFL-CIO who informed us that there were about 525 full time staff in Nevada from labor and about ½ million doors were knocked to get out the vote. To address the "2016 Elections and Mobilizing for the Future" we heard from a trio who are well versed in the issues of labor and working women: Liz McElroy, Deputy Political Department Director, AFL-CIO; Rachel Lyons, Sr. Government Affairs Mgr., National Partnership for Women & Families and Terry O'Neill, President, National Organization for Women. Liz confirmed that while union members voted for Hillary it was not in the numbers that were needed. Clinton received 8 1/2 million less votes than Obama and 'we underestimated the role that sexism played in the election'. However, there were successes in the Senate: Kamala Harris-CA, Tammy Duckworth- IL, Maggie Hassan, NH and Catherine Cortez Masto- NV. Rachel continued by acknowledging that the momentum for issue based work for working families: equal pay, paid family leave and combatting pregnancy discrimination remain strong and our stalwarts: Representatives DeLauro and Pelosi and Senator Gillibrand will be there to take up the torch. She went on to say that we have made progress on paid leave in the states and will continue to battle in that arena. Terry took the podium and expressed her apologies for the 53% of white women that voted for Trump but congratulated the 94% of Black women who voted for Hillary and supported her platform. She reminded us that Hillary was a pro-choice feminist who garnered over 2 million more of the popular vote over Trump. She brought the house to their feet with a rousing "No, we won't go back!" Read more here: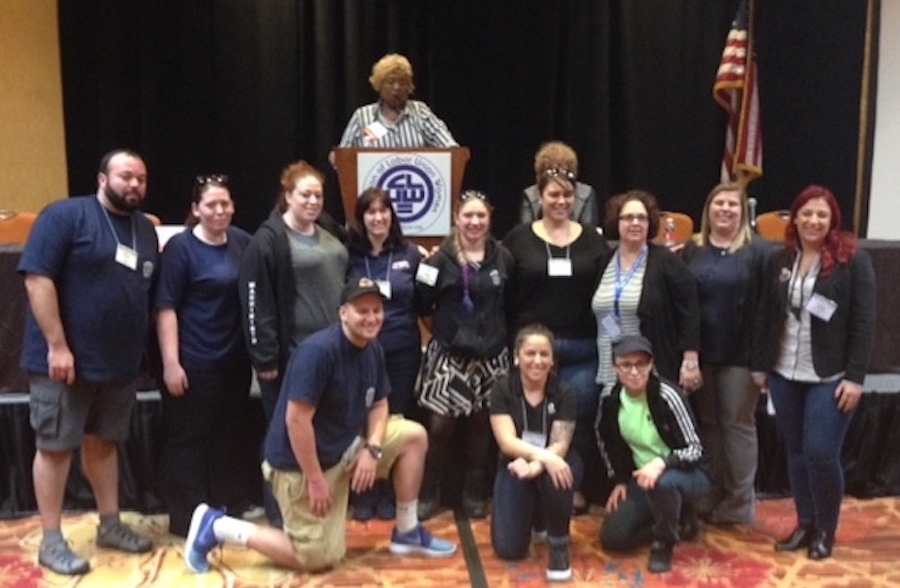 Some of the young people who attended the Conference.
On 11/15/16 conference attendees participated in the CLUW Mannequin Challenge.
Conference attendees participated in one of four 7 hour tracks that they had pre-selected: Organizing for Change, Public Speaking…Yes I Can!, Skills for Emerging Leaders and Are You Thinking About Running For Office? Now Is The Time! During the conference wrap up some one from each track spoke about their impressions. One sister who took the "Running for Office" track admitted that she had been disappointed initially that her desired track was full and so she had to take this one, but was so pleased and learned so much and now was seriously thinking of running for office in her area. In addition to the tracks there were 19 workshops offered covering a wide variety of subjects: health advocacy, workplace bullying, safety at work, criminal justice reform, mentoring and reproductive justice to name a few. You can see the full program here.
On November 16th Tiffany Loftin, Racial Justice Program Coordinator, AFL-CIO Civil, Human and Women's Rights Dept. moderated a Town Hall –Racial and Economic Justice for All of Us with 5 panelists (see photo). In her opening remarks she commented that, " Today we want to have a structured and constructive conversation about how to strengthen our racial justice and racial politics work. We live in a state that is diverse, and we live in a world that is even more diverse. We continue to talk about the decline in the labor movement, when there is a huge opportunity to grow the labor movement through opening our doors to millions of people of color, young people and women that feel left out of our movement for economic justice. " The two hour session included questions directed to the panelists and then an opportunity for those in the audience to participate. CLUW sees this as the beginning of a dialogue on this important subject.
A special thanks to our sponsors who made the conference possible: Sponsorship Flyer.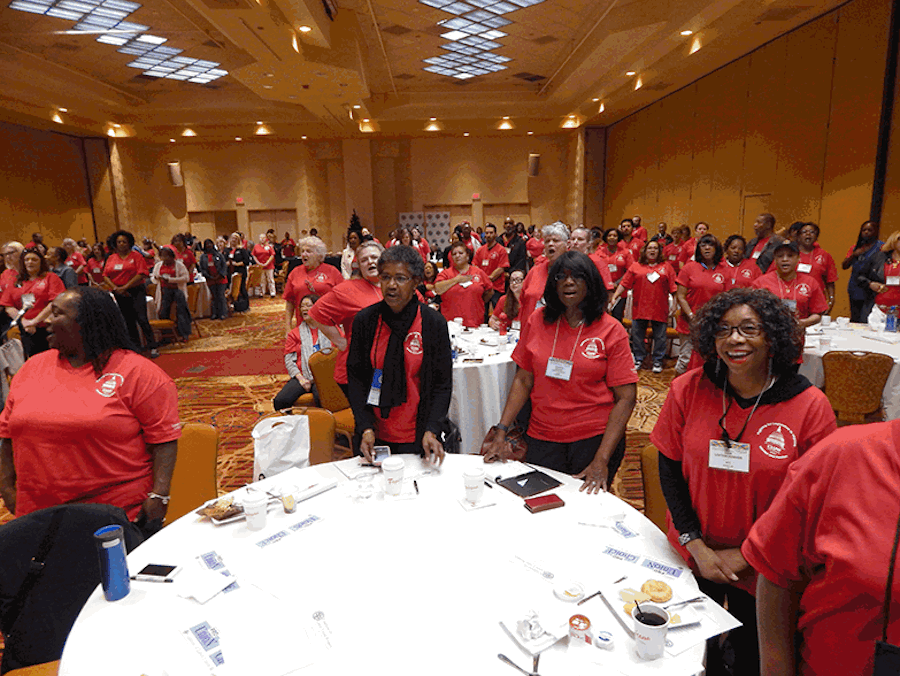 Elise Bryant, Ex Dir Labor Heritage Found. (not pictured) lead conference attendees in song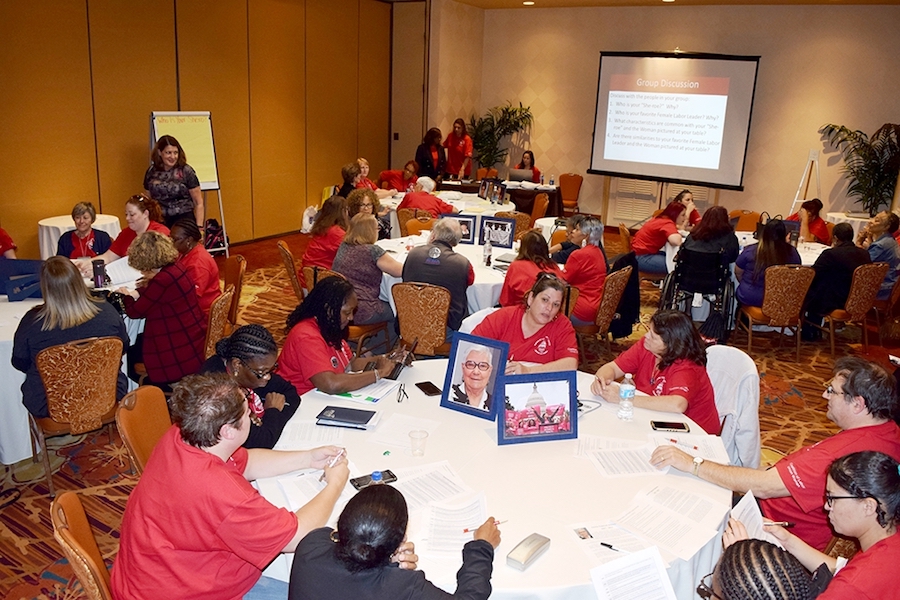 Women & Labor History workshop w/ trainers Rhonda Rogers nr. flip chart and Diane Babineaux (CLUW VP) and Bridget Fitzgerald in background -all IAM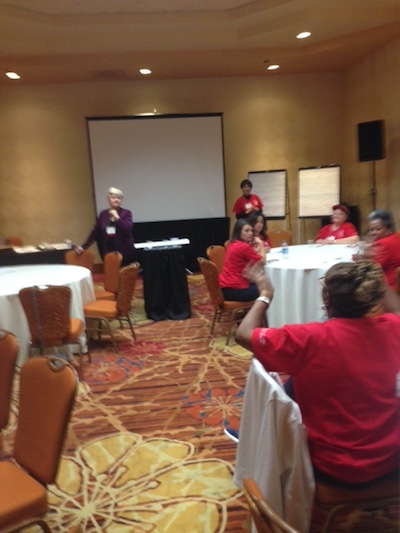 Health Advocacy workshop with presenters WA State Sen. Karen Keiser in foreground and Carolyn Jacobson in rear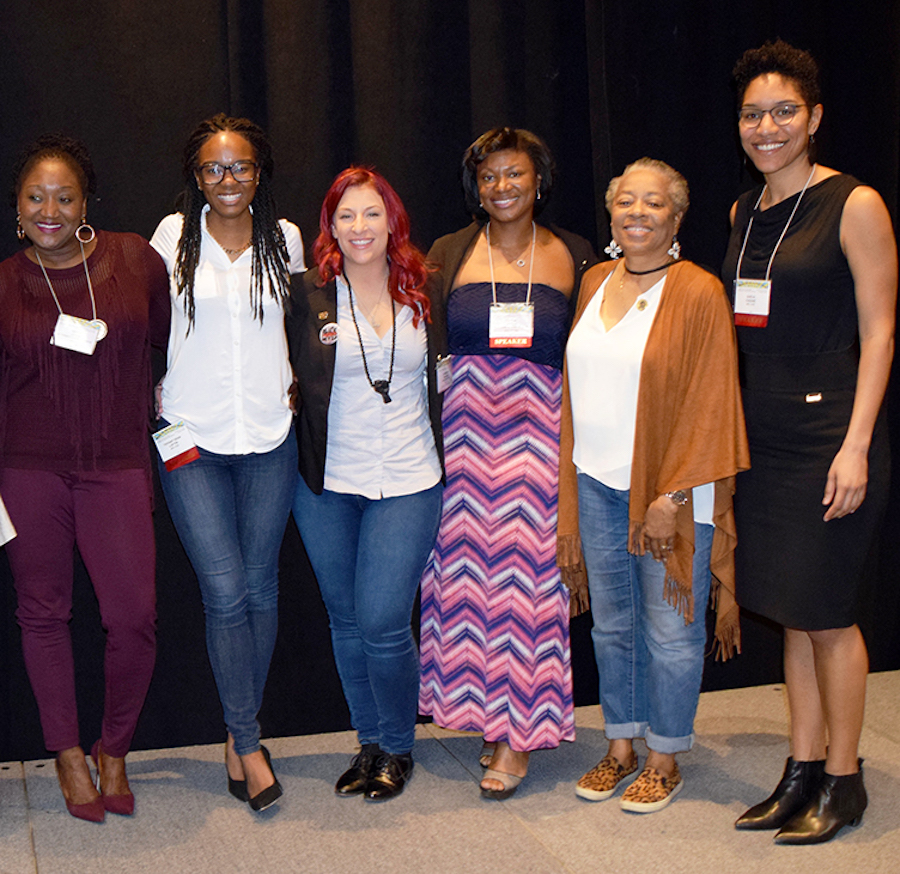 Town Hall on Racism panelists: l-r Karen Bellamy-Lewis (IFPTE),Tiffany Loftin (moderator), Gabrielle Rogano (IAM), Shyla La'Sha ( CLUW VP SAG-AFTRA), Vera Newton (CLUW VP UAW), Sheva Diagne (AFL-CIO)
More photos can be viewed in our photo gallery:
Special thanks to Mike S. Elliott, Chicago CLUW and Terrence Johns, AFGE for sharing their NEB and Conference photos and videos.
Entitled Gallery: 2016 Women's Leadership Skills Conference. Make sure you click on "Details" button for photo caption.
Page Last Updated: Dec 03, 2016 (05:37:42)