19th Biennial CLUW Convention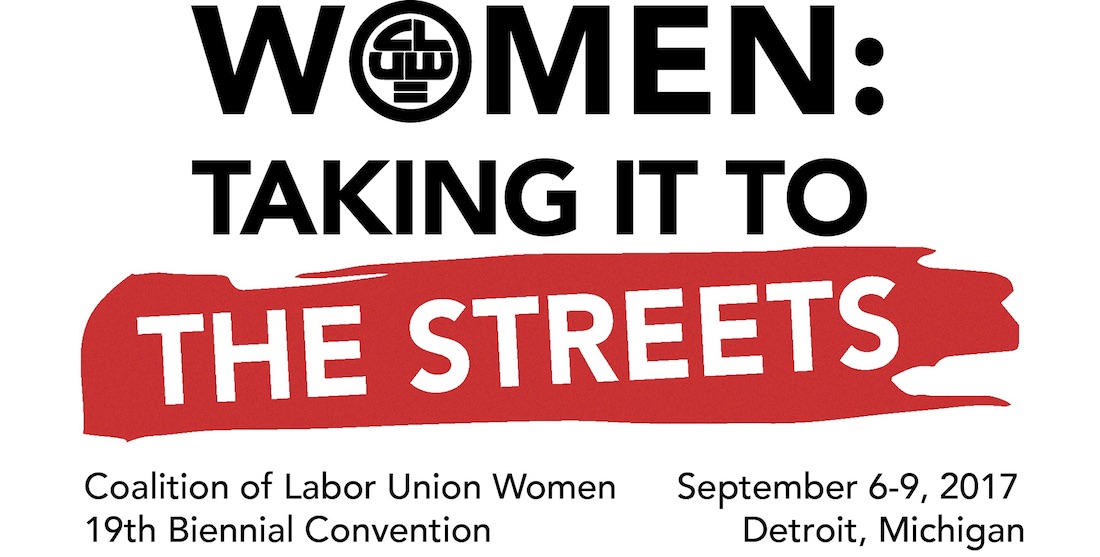 19th Biennial Convention Information
Attention!! The deadline for reservations at the Convention Hotel at the CLUW rate is now past. If you need assistance with hotel reservations please call the CLUW Office ASAP. Convention Registration is still being accepted at the full rate.
We are proud to invite you to the 19th Biennial Convention of the Coalition of Labor Union Women, taking place on September 6-9, 2017 at the Detroit Marriott at the Renaissance Center in Detroit, Michigan. The theme for the convention is "WOMEN: Taking It To The Streets!"
The women's movement and the labor movement are facing some of the biggest challenges in our history, with battles on every front. This is our opportunity to engage those in the labor movement and our friends who are not part of the labor movement and form strong coalitions to fight back those forces that are trying to diminish our power and eliminate gains we have struggled to achieve.
To participate in the convention with voice and vote all you need to be is a Regular National CLUW member in good standing by July 24, 2017. Delegates to the convention will be setting policies for our future through resolutions and constitutional amendments and electing National Officers and National Executive Board (NEB) members for a four year term. Observers are also welcome to attend. See the registration information for deadlines and fees.
We hope you will enjoy this exciting convention which includes workshops on a variety of topics, dynamic speakers and sessions to inspire you.
Please note the convention information below and deadlines.
Looking forward to seeing you in Detroit!
2017 - 19th Biennial CLUW Convention Call

Convention Registration Form

On Line Registration

Convention Tentative Agenda

Workshop Information

Hotel Information and Transportation Information

On Line Hotel Reservations
Scooter Rental Information

Convention Rules, Instructions and Deadlines

Convention Resolution Submission Form pdf

Convention Resolution Submission Form "word"

Convention Resolution Template

Convention Constitutional Amendment Submission Form pdf

Convention Constitutional Amendment Submission Form "word"

Convention Constitutional Amendment Template

In Memoriam

Clara Day Award pdf

Clara Day Award "word"

Sponsor Form

Exhibitor Information is Available by Contacting the CLUW Office

Convention Contact Information

We encourage you to visit the hotel web site and see all that the hotel has to offer here.

For more information about the Detroit area you can visit the Detroit Metro Convention & Visitors Bureau click here. Here is just a highlight of Detroit.

CHECK BACK FOR UPDATED INFORMATION ON SPEAKERS, PANELS, "IN THE STREET" ACTIONS AND OTHER CONVENTION ACTIVITIES
Page Last Updated: Nov 10, 2017 (15:23:26)