CLUW Members Make their Mark at Women's March Anniversary Events
On the first anniversary of the original Women's March on Washington events were planned across the nation with a new emphasis on getting out the vote for the 2018 elections. In support of these goals CLUW members once again took to the streets as part of a grand show of women's power and readiness to create change through political engagement.
At the rally before the march in the nation's capital President Elise Bryant, as one of the guest speakers, began her address with excerpts from "I am a Union Woman" singing "I am a union woman. Just as 'strong' as I can be. I do not like the bosses. And the bosses don't like me". She challenged the crowd with, "A woman's place is in her union. And let me add to that … a woman's place is in the White House and we are coming for it!" Be sure to view her full rallying cry by watching the video above.
In addition to Washington, DC CLUW delegations marched with their communities throughout the country. Millie Hall, president of the Metro-Detroit chapter spoke of how chapter members made it their mission at the Lansing March to "stand up, speak up, stand behind and support our UAW sister Cindy Garcia, whose husband was deported to Mexico after living in the United States for 30 years." Stating that "this is our moment for our voices to be heard."
In California the secretary of the LA CLUW Chapter, Analisa Swan shared that she marched "in support of LGTBQIA+ equality, civil rights, DREAMERS, women, POC, immigrants, access to healthcare". While over in Louisville, KY Derby-City Chapter President Vanda Moore said "the women brought the fire with their words" and PA State Vice President Koren Parker called the Philadelphia event a "total success" and was inspired by the "overwhelming amount of young activists."
Before the Morristown, NJ March CLUW State President Darlene Smith was quoted by a local newspaper, The Home News and Tribune, saying "there are a lot of common goals and dreams people have, but they're marginalized because of their sex, their gender association, their race and even varying political views". To read the full article and the rest of Smith's remarks click here.
Of the Rhode Island March, RI CLUW member Dr. Dorothy Donnelly said "I have not seen or felt this much energy in such a large crowd since the '60s. This is bound to lead to more women in office, better policies to protect women rights and help close the wage gap." Valarie Lawson added "it was inspiring to see so many activists standing together for so many important issues during this crucial time".
While other CLUW sisters were marching National CLUW Vice President (IFPTE) Karen Bellamy Lewis encouraged Rev. Dr. Jessica Kendall Ingram, 1st District African Methodist Episcopal Church, to speak on the importance of the marches during the Annual Women's Conference attended by over 600 women.
CLUW members are starting the year strong and kicking off what is sure to be an energized 2018. To see more photos of CLUW members' involvement in the Women's Marches and Rallies be sure to click here to be taken to our photo gallery.
View Elise Bryant's interview on CBC (Canadian Broadcasting Corporation) here.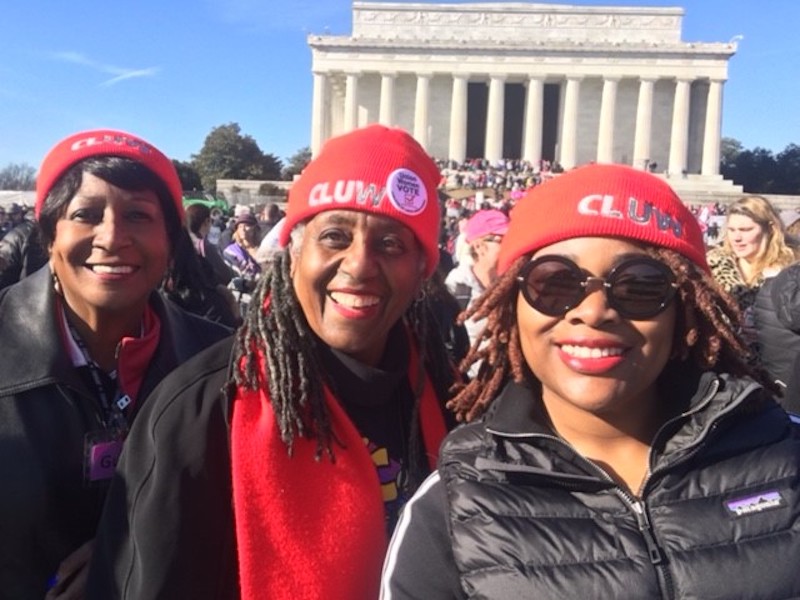 (L-R) National Treasurer Judy Beard, National President Elise Bryant, and National Vice President (IBEW) Rachel Bryan at 2018 Women's March in Washington, DC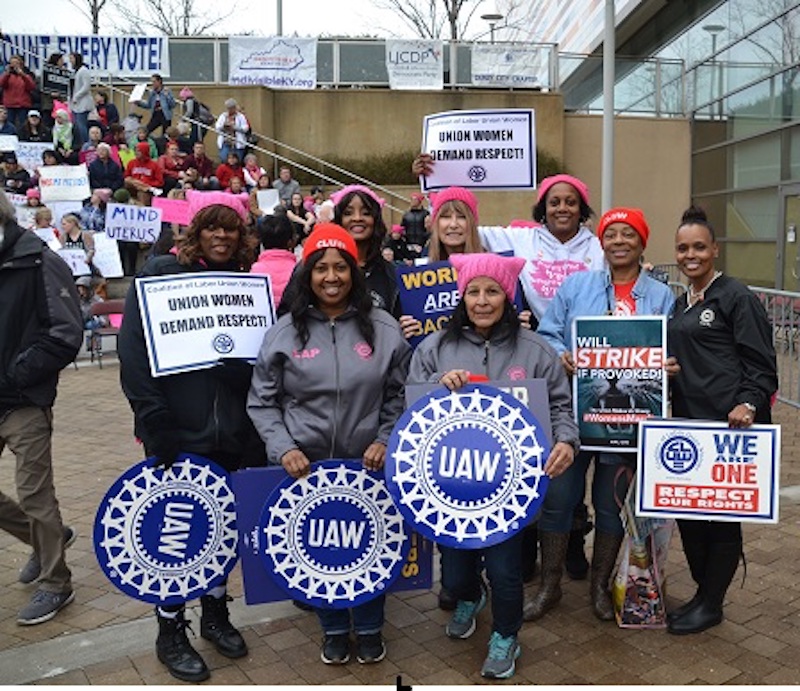 Derby City (KY) CLUW Members at the Women's Rally in Louisville KY

Page Last Updated: Jan 30, 2018 (06:10:34)