2020 NEB & Women's Leadership Conference
The Upcoming Women's Leadership Skills Conference and National Executive Board Meeting: Sisters Not Afraid of Power 2020 – 100 Years and Counting HAS BEEN CANCELLED DUE TO ONGOING CONCERNS RELATED TO THE CORONAVIRUS OUTBREAK.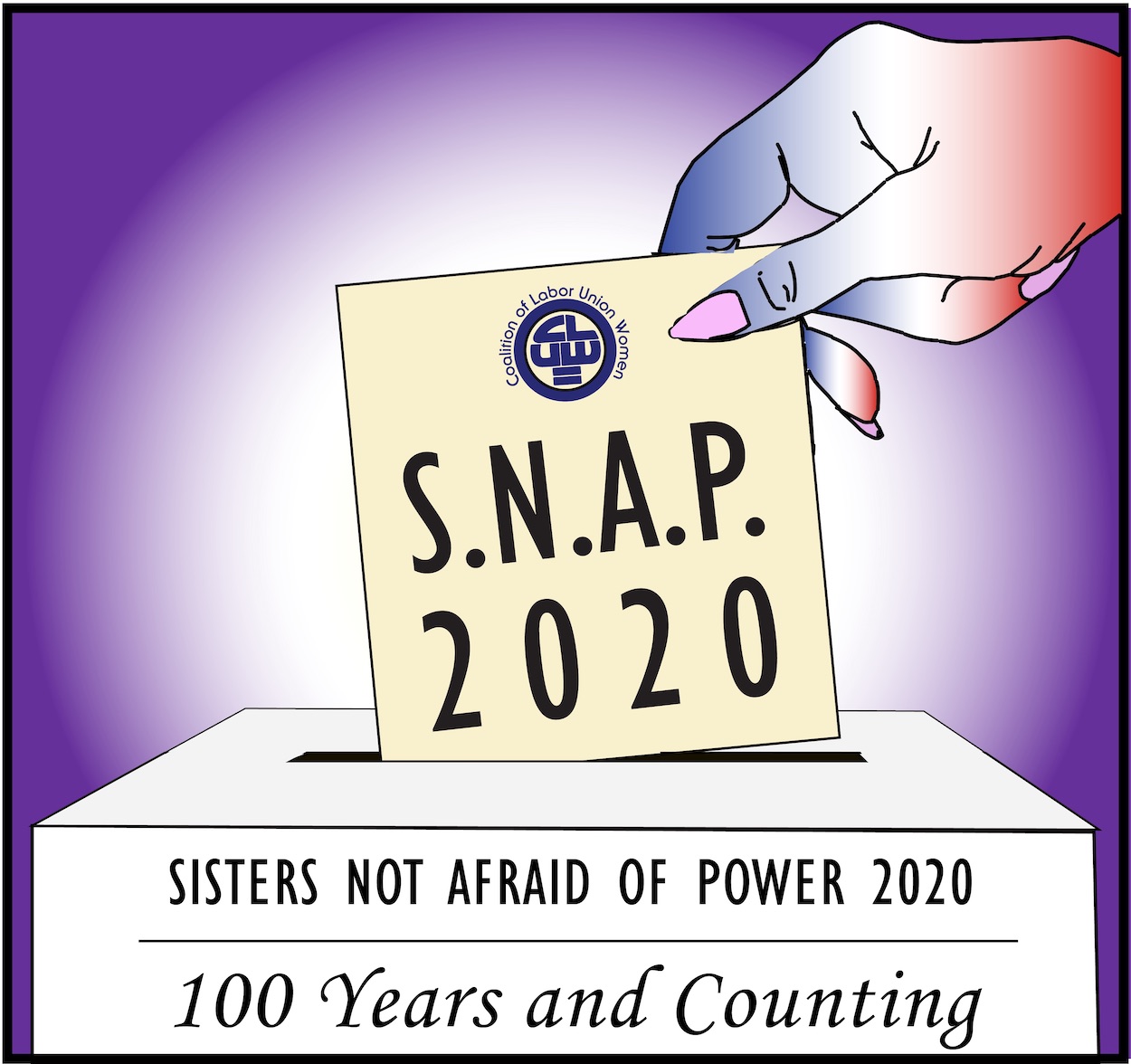 On-line Registration (preferred method): credit card or check accepted.
On-line Registration can be found here or download Paper Registration Form here.
REGISTRATION DEADLINE EXTENDED TO FEBRUARY 25th
The upcoming CLUW Women's Leadership Skills Conference and National Executive Board meeting will be held at the Hyatt Regency Atlanta, 265 Peachtree St. NE, Atlanta, GA 30303 from March 10 -14!! All CLUW members are invited to attend the NEB meeting (non NEB members are welcome to attend as observers). See Newly Posted Expanded Tentative Agenda here. Our theme is Sisters Not Afraid of Power 2020 - 100 Years and Counting. The 2020 Elections are critical and we know that women will play an essential role. CLUW is prepared to mobilize, educate and hit the streets to make a difference for working families. The NEB meeting and conference will concentrate on that preparation. We need you to be there to contribute to the program!
The NEB meeting is being held in conjunction with a 2 day Women's Leadership Skills Conference. The conference will include short plenary sessions at the beginning and end of each day (agenda being confirmed) and workshops. Workshops are described in online workshop selection form that you can find here or you may download a Registration Form and return via US Mail.
Please make sure that you complete the online workshop selection form once you have paid your registration online and complete the hard copy registration form including workshop selections if you plan on attending the conference.
The NEB and Conference Package:
Prices:
NEB meeting is complimentary and open to all CLUW members
Conference:
$150 for CLUW members that includes 2 lunches, a snack break each day and materials
$200 for non CLUW members. (become a NEW MEMBER for $35.00 reducing the registration price)
Cancellation Policy: Registration fees are transferable, but not refundable. Funds can be transferred from one person to another if the person who originally made payment submits a request in writing. Recipients who submit online payment will be sent a receipt electronically. Please bring the receipt with you for on-site registration.
Please arrive early enough for the reception the night before the conference.
An abbreviated program follows:
March 10 - Evening: Finance Committee meeting and NOC meeting
March 11- National Officers Council meets; registration takes place mid afternoon (registration at various additional times on following days). Sergeant-At Arms and Committee Co- Chairs meet and Orientation for First Time NEB Attendees takes place in the evening.
March 12 - National Executive Board meets; State Officers and Chapter Presidents and various committees hold meetings.
March 13 and 14 - Leadership Skills Conference. Light reception in the evening.
Housing Information:
The room rate at the Hyatt in downtown Atlanta is $189 single/double plus 16.90% tax and $5 GA hotel tax. You can book your room here. You may also contact Hotel Reservations by calling 404.577.1234 or 877.803.7534 (Group Code: CLUW or Coalition of Labor Union Women) Deadline February 21. Complimentary guest room internet and 24 hour access to Stay Fit Fitness Center.
Whether booking via the online link or calling in, a credit card will be collected, but will not be charged, only used to hold the reservation. When making a reservation, a credit card is mandatory. If a guest wants to send in a check prior to arrival to cover charges s/he can do that and at that point the credit card can be removed from the file.
There is a 48 hour cancellation notice prior to arrival to avoid a one night cancellation fee. The hotel will confirm the guest's departure date at check in and if the guest departs earlier there will be a $50 charge.
Incidentals: If a guest does not provide a major credit card at check in full payment of the entire stay will be required in advance along with a refundable $100 deposit for the first night and $50 for subsequent nights for incidentals. If the guest chooses not to pay the incidental deposit - phone (other than room to room) and in room movie access and check signing privileges from the hotel's outlets will be denied.
Check in time is 4 PM EST and check out is 11 AM EST.
Parking is available at Hyatt Regency Atlanta. Prevailing parking rate will apply. Currently, overnight valet parking is $45.00 with "in and out" privileges. Overnight self-parking is not available on-site. Rates are subject to change without notice.
The hotel is very full so please make your reservations as soon as possible.
Contact the CLUW National Office if you are seeking a roommate or want to share a room by calling 202.508.6969.
Atlanta Convention and Visitors Bureau
Transportation Information:
Hyatt Regency Atlanta is easily accessible to Hartsfield-Jackson Atlanta International Airport. It is about a 20-minute ride by car (depending on traffic and time of day). View driving directions here.
Taxis and shared ride services are easily available from the airport. A taxi should cost $30 to get to the hotel and a shared shuttle should be $18.50 one-way.
Via public transportation: Atlanta's MARTA transit system runs to and from Hartsfield-Jackson Airport. Fares are $2.50 each way. From the airport, board any Northbound train and Exit at the Peachtree Center Station, about a 20 minute ride. The Peachtree Center Station is connected to the hotel through the Peachtree Center Mall. (View directions via public transport here).
We look forward to seeing you in Atlanta in March! Please join us for this important meeting and stimulating conference.
Mobility Scooters & Wheelchair Rentals:
Cloud of Goods: Order Online OR call 415.621.9757. Delivery to the hotel is an additional fee. One day advance reservation is recommended to ensure delivery upon your arrival at the hotel.
Page Last Updated: Mar 12, 2020 (07:35:56)