CLUW Memorial Page
This area of our website is dedicated to the Memoriam of the Leadership and Membership of the Coalition of Labor Union Women.
Addie L. Wyatt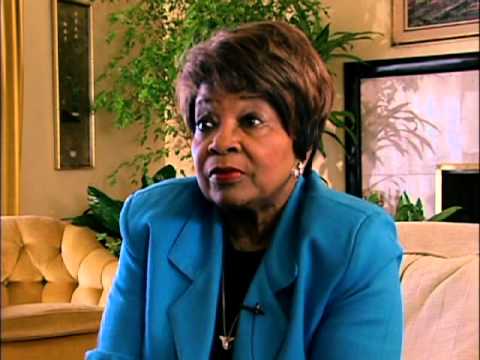 It is with a heavy heart that CLUW reports the passing on March 28, 2012 of our beloved sister, Addie L. Wyatt. Sister Wyatt was a remarkable woman whose influence will be felt by many. CLUW sisters and brothers extend our deepest sympathy to her family, friends and all whose lives she touched over the years. Sister Wyatt was instrumental in the founding of the Coalition of Labor Union Women and gave the keynote address to the 3,200 delegates at the first gathering of CLUW.
Oral interview of Rev. Wyatt which took place on December 14, 2002 in Chicago and was conducted by Joan McGann Morris and transcribed by Helen Ramirez-Odell (AFT), member Chicago CLUW Chapter. The interview was done on behalf of the Working Women's History Project.
Video tribute to Sister Addie Wyatt. CLUW member Julie Weiss (IAFF), Kansas City Chapter, conducted an interview on August 24, 2010 in Chicago and created the video of Sister Wyatt that was part of a project to celebrate CLUW sisters who played an important part in our history. In attendance at this interview also were Michele Newby (IAFF) CLUW National Vice President and Katie Jordan (Workers United/SEIU), President Chicago CLUW Chapter.

Sister Wyatt received the Mother Jones Award from President Gloria Johnson at CLUW's Convention in 2003 in Seattle. Mary O'Melveny who served as CLUW's General Counsel is at her left along with Jean Hervey, CLUW's Executive Vice Presdient.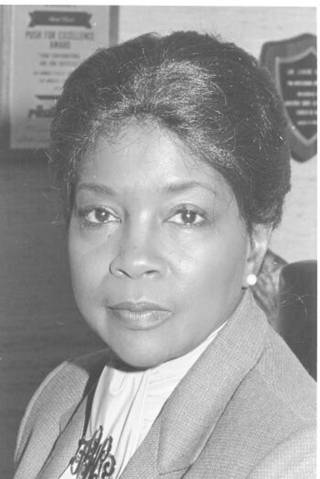 Addie Wyatt Obituary
It is with a heavy heart that we inform you of the passing yesterday of our beloved sister, Addie L. Wyatt. Funeral arrangements have not yet been finalized. We will forward more information as soon as it becomes available.

Sister Wyatt was a remarkable woman whose influence will be felt by many. CLUW sisters and brothers extend our deepest
sympathy to her family, friends and all whose lives she touched over the years.

Sister Wyatt was instrumental in the founding of the Coalition of Labor Union Women and gave the keynote address to the 3,200 delegates at the first gathering of CLUW. She served as National Vice President from 1974-1977 and then as Executive Vice President from 1977-1988; from 1989 to the present she was Executive Vice President Emerita. She remained interested and supportive of CLUW until her death.

Addie Wyatt was elected the first woman local union vice president of the United Packinghouse, Food and Allied Workers in 1953 and then the first woman International Vice President of the Amalgamated Meat Cutters and Butcher Workmen of North America where she was the Director of the Women's Affairs Department. In 1976 she was the first African American woman International Vice President of the United Food and Commercial Workers Union, serving as the union's Director of the Civil Rights and Women's Department.

Addie Wyatt was appointed by Eleanor Roosevelt to serve on the Labor Legislation Committee of the Commission on the Status of Women. She served as a member of President John F. Kennedy's Commission on the Status of Women. Sister Wyatt was a founding member of the National Organization for Women and a leader in the struggle for an Equal Rights Amendment. In the fall 1975 issue of the CLUW NEWS it was reported that she was scheduled to debate ERA on Barbara Walters' "Not for Women Only". A former Time magazine woman of the year (1975), Sister Wyatt was inducted to the Civil Rights Walk of Fame in Atlanta, Georgia, in 2005.

Addie L. Wyatt was born in Brookhaven, Mississippi on March 28, 1924, the oldest of eight children. Her parents, Ambrose and Maggie Nolan Cameron, moved the family to Chicago while she was still a child. She married Claude S. Wyatt Jr. on May 12, 1940, and began working in the Chicago meat packing industry in 1941. Two sons, Renaldo Wyatt and Claude S. Wyatt III, were born in this period.

She and her husband, Dr. Claude Wyatt, Jr., founded the Wyatt Choral Ensemble in 1944. Sister Wyatt was ordained in 1955 and the next year the Wyatts began working closely with Dr. Martin Luther King, Jr. She became a labor adviser to the Southern Christian Leadership Conference (SCLC). She was a leading civil rights campaigner in Chicago during the 1960s, serving on the Action Committee of the Chicago Freedom Movement and organizing protests. The Wyatts also worked with Rev. Jesse Jackson in helping to found Operation Breadbasket, which distributed food to underprivileged people in 12 American cities in 1962 and later became involved in its successor, P.U.S.H. (People United to Serve Humanity).

Upon her retirement she served as co-pastor of Vernon Park Church of God in Chicago, the church, which she and her husband helped found.

Sister Wyatt leaves with us a life furthering the advancement of labor, civil and women's rights.

She will be sorely missed by us all.

Passing of Joyce D. Miller. President Emerita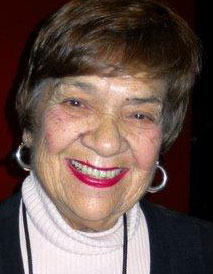 Coalition of Labor Union Women Obituary and Tribute to Joyce Dannen Miller
It is with a very heavy heart that we inform you of the passing of our beloved sister and founding member of CLUW, Joyce D. Miller, President Emerita (WORKERS UNITED/SEIU) who passed away on June 30th shortly after celebrating her 84th birthday.
Sister Miller was a first in so many ways and a constant inspiration to us.
She started life in Chicago and obtained her divisional social services master's degree with a major in education from the University of Chicago in 1951.
She held several positions during the next few years including as secretary/ receptionist and newspaper editor at the Cooperative League and as a substitute teacher in the Chicago school system.
Sister Miller got her first taste of working in the labor movement when she became the Education Director for the Amalgamated Clothing Workers in Pittsburgh, a position that was brief and led to some disillusionment after witnessing an internal union dispute.
After her marriage to Jay A. Miller in 1952 the couple moved to Cleveland where Joyce taught displaced persons. During her time in Cleveland she also took a job with Case Western Reserve University.
The couple moved to Altoona and Wilkes-Barre, PA. Joyce was a stay at home mom for a while but also interspersed that with teaching Psychology and Introduction to Sociology at Wilkes College.
In March 1962 Miller took a job with ACWA and became the Education Director of the Chicago Joint Board of the Amalgamated Clothing Workers Union that later became .the Amalgamated Clothing and Textile Workers Union.
The couple divorced in 1964.
She relocated to New York in 1972 to assume the position of Director of Social Services of the International Union and Assistant to the President; Secretary of the International ACWA and thereafter was elected as an International Vice President in1976.
While the Coalition of Labor Union Women was in its formation Joyce was the East Coast Vice President. She was a founding member of the Coalition of Labor Union Women and was instrumental in organizing its Founding Conference in 1974.
Miller was elected national president of CLUW in 1977 and held that position for 15 years until 1993 (its long serving president).
During Joyce's term the CLUW Center for Education and Research was established and one of its noteworthy initiatives was the Reproductive Rights Project, educating union women on their right to all forms of health care including abortion services.
Also during her tenure, a CLUW delegation visited child care centers in Israel, Sweden and France and later published a booklet on their findings on the general subject of child care.
Another noteworthy publication was "Absent from the Agenda" completed in September 1980 – a survey of women's representation within the leadership of the labor movement.
In 1988 CLUW was the sponsor of the American Family Celebration that called for a national family policy, with 50,000 union, civil, religious and women's rights activists in attendance.
In August 1980 Joyce Miller became the first woman elected to the all male AFL-CIO Executive Council.
In 1991 Ms. Miller wrote in "Women, Work and Union: Labor in the 1990s: ".. As women increasingly join the ranks of the labor movement and as they enter positions of leadership in it, they are renewing and redefining unionism….With their increased participation in unions, women are pressing for a more comprehensive agenda which will benefit not just union women but all union members and their families …"

In May 1993 Joyce retired from ACTWU and stepped down from the AFL-CIO Executive Council to accept the appointment as the Executive Director of the Glass Ceiling Commission under the Clinton Administration. This federal commission held hearings around the country collecting testimony from women on the status of female employment and investigating upward mobility of women in the workforce that culminated in a report on their findings.

She became a Special Advisor to the DOL Secretary Robert Reich at the conclusion of her work with the Glass Ceiling Commission.

Joyce later became a member of the Wage Appeals Board under the Department of Labor serving as a judge adjudicating wage dispute cases until 1998.

During her retirement Joyce had been active in labor related activities as well as the Women's National Democratic Club and she volunteered on the comment line for the Obama White House.

Joyce raised 3 children as a single parent: Rebecca – who followed her mother into the labor movement, Joshua, a college professor and Adam, an attorney. She has 2 grandchildren, Lillian, 13 and Sarah, 11.

Over the years she was recognized with honors and awards. What follows is a sampling:

May 1978: Midwest Labor Press Association presentation of Eugene V. Debs Award to the first woman recipient. The award is given annually to a person who exemplifies the spirit of Debs, the great union leader of the 20th century.

June 7, 1979: David L. Clendenin Award. Distinguished Service to Labor's Rights- Workers Defense League

May 7, 1981: Recipient of the Florence Criley Award by the Chicago CLUW Chapter

October 9, 1985: Pioneer Women Na'amat Celebration of Women Award

June 19, 1993 Americans for Democratic Action: For her work on behalf of working women

In March 2010 CLUW Executive Director Carol Rosenblatt interviewed Joyce Miller as part of the March 2010 CLUW Working Women's Award Celebration. Joyce was an award recipient

Joyce D. Miller's responses are indicative of her world view:

When did you first walk in a picket line – where/when/what job action? What was your impression?

I was first involved in the Farrah (Farrah Pants) strike and organizing effort which lasted for 18 years. I was in El Paso and San Antonio, TX. I walked the picket line and did whatever was necessary to support those that were picketing. This took place during the 1970's. The workers were very brave, courageous and received substandard wages. This strike was the story that was told in the movie "Norma Rae" There was an 18 year struggle to organize the workers.

What is something that no one else knows about you that added to your growth as a leader?

My background was in education and for my master's degree I wrote on the role of the residential school in labor education and used the UAW model in Port Huron, Michigan. After World War II I taught English in a displaced workers program that was held in the union building of the RWDSU (Retail, Wholesale, Department Store Union). This early experience of contact with a union environment helped me to know that I wanted to become a union leader.

Services were held for Joyce Miller at the Washington Hebrew Congregation on July 2nd in Washington, DC.

On October 9th the Coalition of Labor Union Women, Workers United/ SEIU, and the AFL-CIO hosted a memorial/tribute to Joyce Miller at the AFL-CIO headquarters in Washington, DC.

Our thoughts and prayers are with her family and friends and with her CLUW family also. Our sister Joyce was a treasure to us and will never be forgotten.

Please see other Obits in the New Your Times, The Washington Post, the LA Times, Talking Union Blog and Jewish Women's Archives that follow.

Talking Union Word Press Article
There are also images from the Joyce D. Miller Memorial in the Photo Gallery.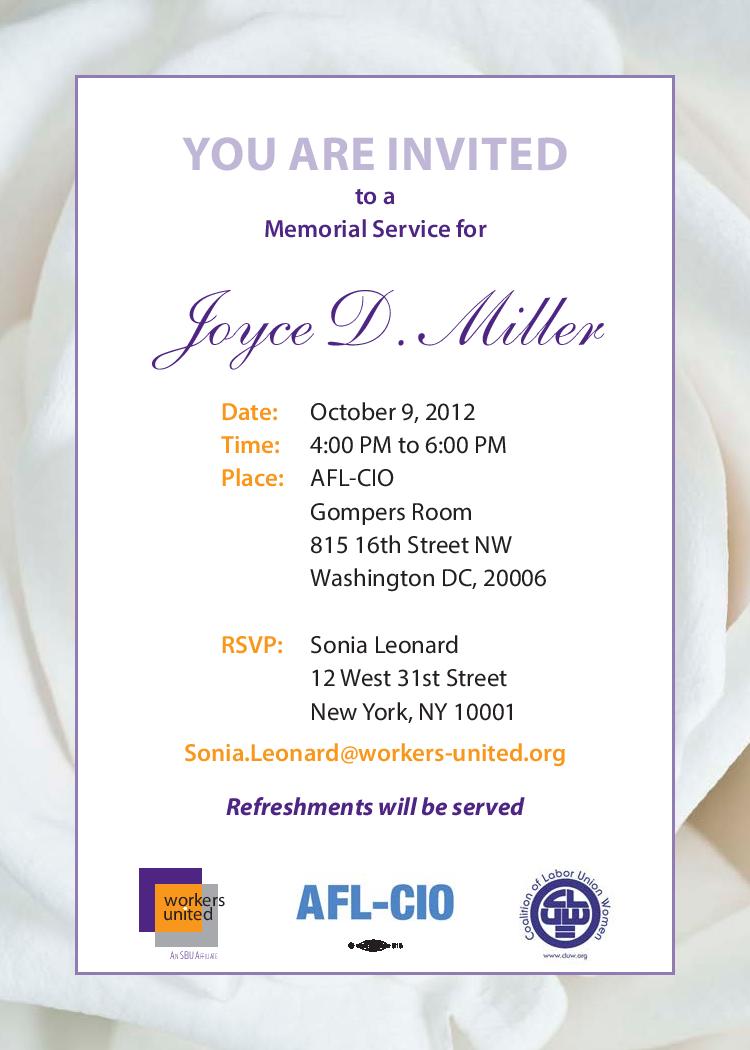 CLUW Mourns the passing of Gloria Tapscott Johnson
Coalition of Labor Union Women Obituary and Tribute to Gloria Tapscott Johnson
(10/28/27 – 2/13/13)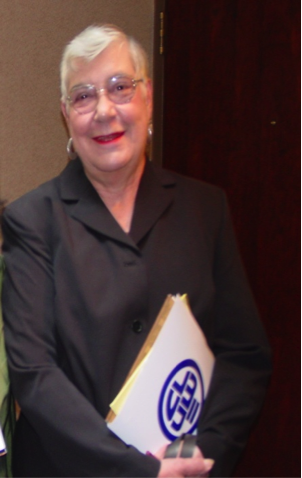 It is with a very heavy heart that we inform you of the passing of our beloved sister, friend, mentor and founding member of CLUW, Gloria T. Johnson, President Emerita (IUE/CWA) who passed away on February 13, 2013 while at Southern Maryland Hospital Center in Clinton, Maryland.
Gloria Johnson was a lifetime women's, labor and civil rights leader. She joined the International Union of Electronic, Electrical, Salaried, Machine and Furniture Workers in 1954 as a bookkeeper. For many years she served as the elected chair of the IUE Women's Council and was the Director of IUE's Social Acton Department and a member of the Executive Board. Before her retirement from the IUE-CWA in 2004 she was the Women's Activities Coordinator.
She served as President of CLUW from 1993 until 2004 and prior to being elected president was CLUW's treasurer for seventeen years.
In 1993, Ms. Johnson was elected a Vice President of the AFL-CIO, the second African-American woman to hold that position, retiring in 2005. As Vice President she served on the Women's Committee of the International Conference of Free Trade Unions and was Chair of the Standing Committee on Women's Issues.
Sister Johnson was President of the Labor Coalition for Community Action, an organization composed of the six constituency groups of the AFL-CIO from 2004-2010.
"Gloria Johnson was a giant in the Labor Movement," current CLUW President Karen J. See said. "She was strong and not afraid to go after what she thought women needed. She was very kind and supportive of me personally. Her passing is a great loss to the Coalition of Labor Union Women and to the entire Labor Movement. We will miss her wisdom, her great insight and most of all her friendship."
Exemplifying her commitment, in 1996 Sister Johnson spoke at a rally outside the Democratic National Convention and said, "We in CLUW believe that women have the basic right to live free from violence and to choose when and if we bear children." In May 2000 as part of CLUW's Working Women's Awareness Week she advised,
"Candidates need to address pay equity if they want to win the votes of working women who will be a deciding factor on Election Day."
During her years with CLUW, Gloria Johnson worked tirelessly for advancing equality for women and minorities in the workplace and in society, as well as for equal access to economic opportunities. Under her tenure, CLUW focused on issues such as women's and children's health care, family and medical leave, labor law reform, sweatshops, workers' and human rights, voter education and participation, organizing and political education and equal pay. Under her leadership CLUW was a vocal advocate for women's health education, HIV/AIDS prevention, reproductive rights, domestic violence education, contraceptive equity and cervical cancer prevention. She was a recognized world labor leader and traveled across the globe to help improve wages, working conditions and the dignity to women and workers.
From hosting conferences on breaking the glass ceiling, health care, women and children, women in the global economy, voter participation and others, to publishing a wealth of information on a variety of women's economic and health security issues, Sister Johnson advanced CLUW's agenda for working women.
Ms. Johnson represented the American Labor Movement around the world. In 1977, she was one of 18 U.S. union women selected to participate in a three-week study of childcare services in Israel, France and Sweden. In 1979, she was one of six U.S. union women selected to participate in women's conferences in Central and South America. In 1984 and 85, she represented the American Labor Movement in conferences in West Berlin and Madrid, Spain. In July 1985 she was part of a CLUW delegation to the Women Workers Department of the Union Nationale Des Travailleurs Du Zaire in Kinshasa, Republic of Zaire. Her travels abroad for the labor movement have also taken her to Taiwan, Japan, Belgium, Haiti, Brazil, Slovakia, Croatia, and the Czech Republic speaking to trade union women and men on issues of special concern to women.
Among the many awards recognizing her exceptional contribution to the labor movement and civil and women's rights are the Operation PUSH Award for Outstanding Women in the Labor Movement, the 1981 Economic Equity Award from Women's Equity Action League (WEAL) for outstanding achievement in the Labor Movement, the 1985 award from the Southern Christian Leadership Conference for her work for human rights, the A. Philip Randolph Institute 1994 Achievement Award, 1995 Wise Women Award presented by the Center for Women's Policy Studies and in 1995, the NAACP first Annual Pathway to Excellence Award "Women of Labor." In 1998, President Bill Clinton appointed her to the President's Commission on the Celebration of Women in American History. In 1999 she received the Eugene V. Debs Award in Labor. In 2000, she received the National Black Caucus of State Legislators Labor Leader "Nation Builders" Award and the National Committee on Pay Equity Winn Newman Award. She was awarded an honorary doctorate from the National Labor College.
Ms. Johnson was born in Washington, DC and graduated from Howard University. She was happily married to Dr. David F. Johnson (deceased) for many years and had two children, daughter Toni, and son David (deceased), and one grandchild, David Johnson III. She has three siblings: John, William and Spencer. She came from a close knit family and enjoyed her many nieces, nephews, great nieces/nephews and great, great nieces and nephews.
The funeral will be held Tuesday, February 19, 2013:
Peoples Community Baptist Church
31 Norwood Road
Silver Spring, Maryland
Viewing: 9:30 a.m. – 11:00 a.m.
Service: 11:00 a.m.
Burial will be at Lincoln Memorial Cemetery, Suitland, Maryland
Cards/condolences may be sent to Gloria's daughter:
Toni Peterson
6706 Edgemere Drive
Camp Springs, Maryland 20748
Please check the website at www.cluw.org for information about charitable donations and plans for a memorial service.
Our heartfelt thoughts and prayers are with our dear sister's family at this time of sorrow. She will be in our hearts forever.
CLUW Mourns Passing of Elinor Glenn - Founding Officer
Obituary and Tribute to Elinor Marshall Glenn March 11, 1915 – April 24, 2013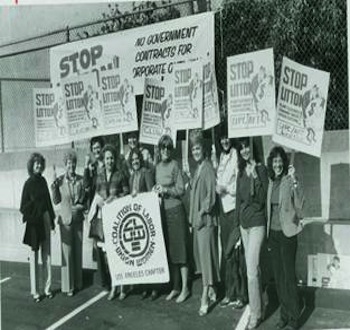 It is with a heavy heart that we inform you of the death of Sister Elinor Glenn (SEIU), a founding member and original officer of the Coalition of Labor Union Women. Karen J. See, CLUW National President said , "CLUW's legacy is that much richer as a result of Elinor Glenn. Her leadership, strength and wisdom contributed to CLUW's growth and will inspire young leaders in the future." She served as the CLUW National Vce President – West Coast from 1974-1975 and continued as a National Executive Board Member for several years. She was elected the National Corresponding Secretary from 1982-1991. Elinor had this to say about CLUW, "The beautiful part of CLUW is the sense of sisterhood that it set up while we were fighting for the goals for women." Elinor was instrumental in organizing the Los Angeles chapter. Maggie Cook, LA Chapter President recalled that Elinor remained active in the chapter until 5 years ago and was a mentor to every woman that knew her. In the photo Elinor is 2nd from left (with blonde hair) and at the far left is Ruth Martin (with coat over arm) who served as chapter president from 1974-1999. Photo taken in 1980 of LA CLUW members protesting Litton.

Elinor was born in Brooklyn New York, the 3rd of 4 children, to politically progressive parents who supported the union movement. Her mother was an activist suffragette who was involved in many organizations and who Elinor remembered as a wonderful organizer; her father was a union tradesman (a member of the painters' union) and builder who believed that boys and girls were entitled to the same education, a view not popularly held at that time. Elinor skipped several grades and entered New York University at 15. She majored in Economics and Drama.

Her first love was acting, starting before high school and performing in summer stock and Off Broadway. While in college she met the author Herman Wouk at a summer camp for theater artists and is supposed to be the model for the character Marjorie Morningstar in the book of that name.

During her college years Elinor led a successful student protest and this experience caused an awakening in Elinor that led to a life of activism. During this time she and other NYU students volunteered at the seafarers' union.

She graduated college in 1934 at 19 years old and after being unable to find a job in theater, got a job teaching English and remedial reading in the public schools thru funding thru the WPA (Works Progress Administration) under Roosevelt's New Deal. She became a Vice President of the WPA Teachers Union. She later became a private school teacher at Pleasantville Cottage School run by the Jewish charities.

Elinor moved to Los Angeles with her first husband in 1944 in the hopes of working as an actress. She also studied law for a year at Southwestern Law School. Elinor joined an acting troupe that performed in union halls. This experience made her realize that "she was on the wrong side of the footlights". To earn money, she worked as a clerk with the Office of Price Administration (OPA). She organized a local union and was fired three times for union activity, but was reinstated each time. She was promoted to an Economist. She moved up the ranks of the National Federation of Federal Employees Local from steward to chief steward. When the Local merged with several state, city, and county locals, she was elected president of UPW (United Public Workers), Local 246, a position she held until 1945-6, when she began to work as an organizer-representative at Rancho Los Amigos Hospital.

However, becoming an organizer was not easy for a woman. As Elinor tells it, "Each time I went up the ladder it was a fight to recognize that a woman could do the job. And in each case, I suggested a temporary probation period to see whether I would make it or not…" After successfully organizing and handling grievances at Rancho Los Amigos Hospital, she began to organize workers at the other Los Angeles County hospitals. In 1953 UPW, Local 246 merged with SEIU Local 347. Ten years later they were chartered as Los Angeles County Employees Union, Local 434, and eventually Elinor became the General Manager. She was the first woman to achieve that position of any SEIU local. As a leader of 434, she organized thousands of employees and helped forge major gains for county workers, including a collective bargaining ordinance in 1969 and leading the first strike to protect wages and seniority rights of county workers.. She was elected to the SEIU International Executive Board in 1972 and retired from her union employment in 1979, although remained active in SEIU for years.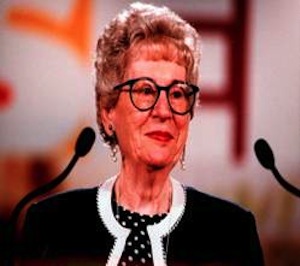 Amongst her honors: United Long Term Care Workers of SEIU established the Elinor Glenn Scholarship and the Jewish Labor Committee established the Elinor Glenn Leadership Award.

Photo 21st SEIU Int'l Convention 1996.

Kerry Newkirk CLUW National VP (SEIU) felt that, "Elinor was the most beautiful woman--inside and out--in any room she was in. She was a champion of women's rights and responsible for mentoring and supporting a countless number of women labor leaders and activists. As a leader of SEIU, she is largely responsible for the organizing of public sector workers in California. Her warmth, humor, inspiration, and generosity will be deeply missed but she leaves a huge legacy--it can truly be said that she made a difference in the world."

Elinor was married to Hack Glenn for many years; he died before her. They had a son, Norman Gleichman who died in January. He had served as the Deputy General Counsel of SEIU. Survivors include her daughter-in-law, Marie Ritzo and 2 grandchildren, Nick and Eve. A June memorial service is being planned. More details to follow.


Thanks to Wayne State Reuther Library, SEIU Interview 1994, plus other SEIU archives, 1986 interview, California State University, Long Beach and CLUW NEWS for information and photos.
CLUW Mourns the Passing of Clara Day - Founding Officer and Executive Vice President
Coalition of Labor Union Women Obituary and Tribute
Clara Day: August 29, 1923 - February 1, 2015

It is with a heavy heart that we inform you of the passing of Clara Day (International Brotherhood of Teamsters), a founding member and original officer of the Coalition of Labor Union Women. She served initially as Midwest Vice President in 1974, then as a National Vice President (IBT) and in 1988 was elected as Executive Vice President holding that position until 2001 when she became ill and had to relinquish her office. In the September/October 1989 issue of the CLUW NEWS it was reported that she…"is as well known for her tireless community service as she is for her distinguished career in the trade union movement."
CLUW President Connie Leak commented, "We are proud to call Clara Day our sister and mentor. Her courage, strength and leadership paves the way for a new generation of young women in the labor movement. We cherish her contribution to CLUW and she will forever be in our hearts."
She was born in Tuscaloosa, Ala. and was the middle child from a large family with 11 children.
Sister Day worked as an information clerk at Montgomery Ward's warehouse in 1947 and joined the Warehouse and Mail Order Employees Union Local 743 IBT in 1955 after being instrumental in a successful organizing campaign at Montgomery Ward. She served as Local 743 business agent, Director of Community Services and was elected in 1976 to the Executive Board and served as Trustee and Recording Secretary for more than 20 years. During her tenure she battled both gender and racial discrimination.
She served on many boards and commissions including as commissioner of the Chicago Commission on Human Relations and as first vice chairwoman of the Illinois Commission on the Status of Women.
She was an outspoken advocate for social justice and civil rights leading a delegation of her union members in the historic March on Washington in the company of Dr. Martin Luther King Jr.
In 2008, the Teamsters Union published "Clara Day: A Teamster's Life" as part of the Teamster History Collection.
The Coalition of Labor Union Women recognizes her at our biennial convention with the Clara Day Award conveyed to that CLUW State President who embodies those character traits and leadership ability that Sister Day demonstrated throughout her life.
Survivors include her daughter Georgia Day-Grant, granddaughter Donna Grant-Dorsey and grandson Eric Grant.
The funeral will take place on Saturday, February 7th with visitation 8:30 AM – 10:00 AM followed by the funeral at 10:00 AM at Leak & Sons Funeral Homes, 18400 S. Pulaski Rd., Country Club Hills, Illinois 60478 (708.206.0860).
Expressions of sympathy may be sent to the family in care of Sister Day's daughter:
Georgia Day Grant, 2429 Downing Circle, Gurnee, Illinois 60031
Page Last Updated: Mar 20, 2013 (20:57:00)