Elise Bryant Speaks at Labor Rally #FamiliesBelongTogether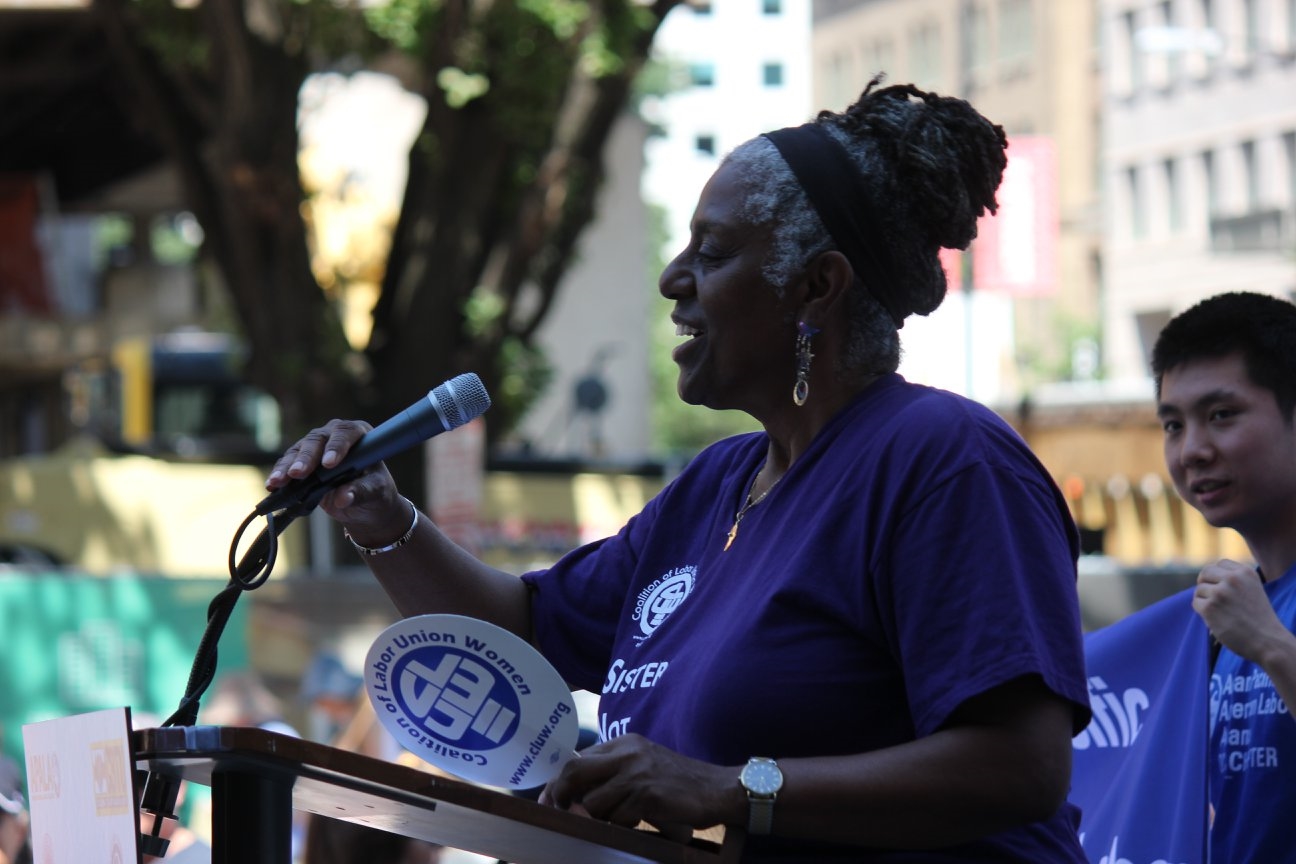 CLUW Pres. Elise Bryant mobilizes the rally crowd
On Saturday, June 30th, over 600 different #FamiliesBelongTogether events occurred throughout the United States in a mass day of action against family separation at the border and Trump's "Zero-Tolerance" immigration policy. CLUW members participated in cities around the country and in the nation's capital where President Elise Bryant spoke at a labor rally before the main #FamiliesBelongTogether event.
The labor rally was organized by the Labor Coalition for Community Action (LCCA), composed of the constituency groups of the AFL-CIO, and held in front of the AFL-CIO headquarters.
Along with CLUW President Elise Bryant, speakers at the labor rally included: Tefere Gebre, Executive Vice President of the AFL-CIO, Alejandra Y. Castillo, CEO of YWCA USA, Robin Williams, International Vice President of UFCW, Liz Powell, Secretary Treasurer of APWU (also representing CBTU), Jerame Davis, Executive Director of Pride At Work, Sookyung Oh, DC Director of the National Korean American Service & Education Consortium and APALA representative, Ana Marie Argilagos, President of Hispanics in Philanthropy, and Sara Nelson, President of AFA-CWA). Hector Sanchez , Executive Director of LCLAA served as emcee. President of APWU, Mark Dimondstein, was also in attendance to support.
Other attendees included union members, activists, working families, and those who earlier in the morning attended a Shabbat (Sabbath) gathering held at the AFL-CIO by Jews United for Justice.
Watch a recap video of the Labor Rally here. And click here to hear a short statement by President Elise Bryant about the march.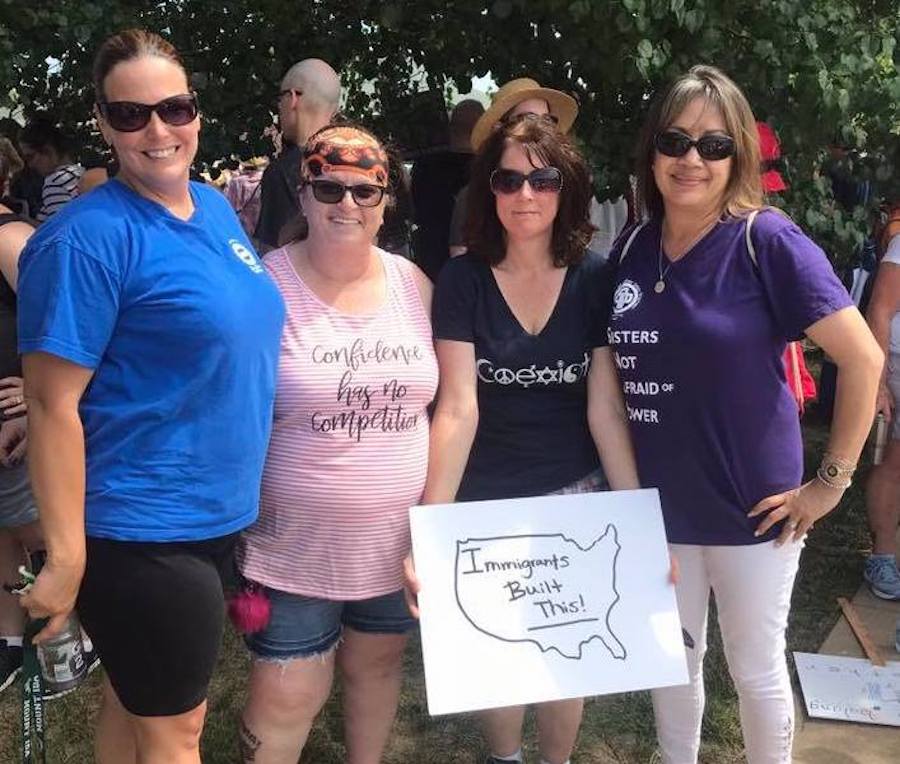 Kim Cook Bell (r) chapter pres. St. Louis CLUW with UAW sisters at Troy, MO rally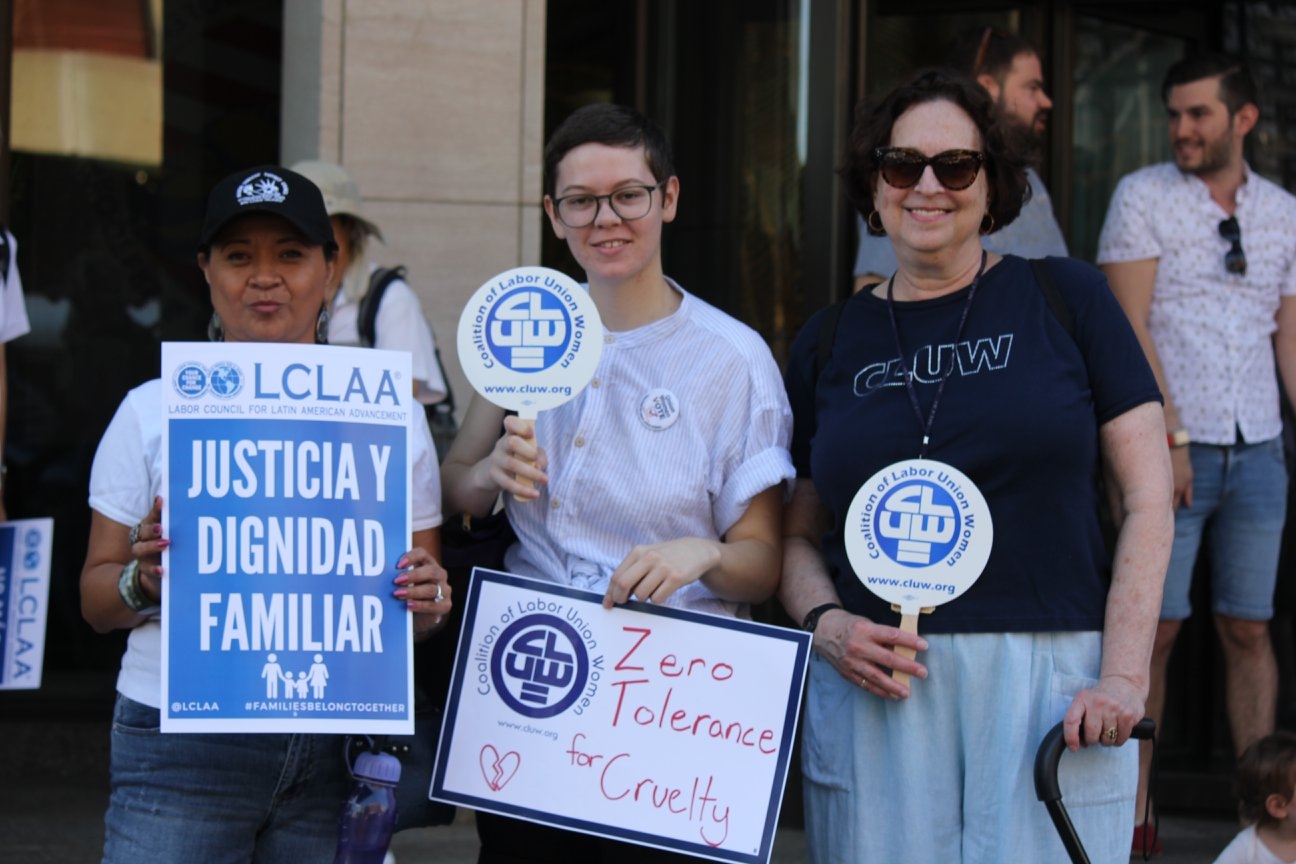 r-l Carol Rosenblatt and Tiana Outram from national CLUW office and LCLAA sister in front of AFL-CIO
---
AFL-CIO Constituency Groups Blast Family Separation
& Detention, Workplace Raids
In response to the horrendous actions ripping immigrant families apart, the Labor Coalition for Community Action issued the following statement:
We are outraged by the government's cruel and heartless actions to rip immigrant families apart and house immigrant children in internment-like conditions at the southern border. Now this administration wants to detain families "indefinitely". The attack on immigrant families continues with hard-working parents taken away from their families through increased workplace raids.
Let's be clear: instead of trying to fix a broken immigration system, the administration's goal is to keep immigrant families apart and out of this country. Instead of protecting and advocating for workers, the administration continues to undermine working people and increase the vulnerability of workers. What's needed now more than ever is to combat Trump's mass deportation agenda, the mass criminalization of communities of color, and the continued attack on workers. We will not tolerate hate nor will we back down on the fight for our and allied communities. We will not allow the government's continuation of raids that are destroying workplaces, neighborhoods and tearing immigrant families apart. Congress must take action now and hold the administration accountable for its actions.
"The labor movement wants to send a clear message to end the Zero Tolerance policy of this administration. It is unacceptable, and only increases the vulnerability of workers and their families. Too many kids have already been torn apart from their parents and keeping them in internment camps will never be a solution. The labor movement opposes the brutality of family incarceration and as we move forward, we will continue to use our voice to defend immigrant rights, our commitment is unquestionable and our resilience lies within our unity. We will organize, mobilize and resist!" – Hector Sanchez Barba Executive Director of the Labor Council for Latin American Advancement (LCLAA)
"Since day one, the Trump administration has prioritized a white supremacist, anti-worker agenda. Every person and family deserves to live a life free from the fear of detention, deportation, and family separation. As a labor movement we believe, every person should be treated with dignity and respect — regardless of immigration status — and that is something clearly lacking in the administration's actions as children are being put in cages and parents being torn away from their children. We call on Congress to take action, and we will continue to fight back against these attempts to harm our communities, including any legislation that treats immigrant children as bargaining chips to advance Trump's anti-immigrant agenda. Alvina Yeh, Executive Director of the Asian Pacific American Labor Alliance (APALA)
"The labor movement is here to send a clear message: we will mobilize and join forces to oppose family separations and any policy that could potentially violate the rights of our community's workers and their families."- Clayola Brown President A. Philip Randolph Institute
"Imprisoning children is kidnapping by a morally bankrupt presidency and the antithesis of 'liberty and justice for all'. We must stop this atrocity now!" Elise Bryant, President of Coalition for Labor Union Women (CLUW)
"Ripping immigrant kids away from their parents and putting them in concentration camps is a horrific action that is blood curdling to watch. Every immigrant, regardless of immigration status, should be treated with dignity, respect, and compassion. Many families may not be reunited for months or years because of the slapdash way this Trump policy has been implemented. LGBTQ immigrant families could face even worse outcomes because it's likely that at least one parent isn't related by blood to the child(ren) being stolen from them. This administration has been hostile to LGBTQ citizens and that hostility is compounded with its naked hatred of immigrants. We won't stand idly by as thousands of children are abused in our name. Jerame Davis, Executive Director of Pride at Work
"When my ancestors were kidnapped to this country the slave masters ripped the babies from their mother's arms. In 2018, people forced to this country for asylum and had their kids stolen from them as well. History has proven that oppressors steal kids to break the will of the people. These families need to be reunited and out of detention now! But as the Mexican saying goes - They promised they'd bury us but they did not know we were seeds." Terry Melvin, President of Coalition of Black Trade Unionists (CBTU)
###
Page Last Updated: Jul 04, 2018 (05:31:03)