Union Women and the Feminist Movement: Telling Untold Stories
St. Louis, Mo. – "If you don't know where you come from, you don't know where you are going," was an observation consistently made by the late Addie Wyatt, a founder and Executive Vice President Emerita of the Coalition of Labor Union Women (CLUW).
Wyatt, a long-time leader of the United Packing House Workers in Chicago, would have been proud to witness a recent Veteran Feminists of America conference celebrating the inter-related histories of the feminist movement and the labor movement -- a conference where CLUW Chicago President Katie Jordan, a friend and colleague, spoke about Sister Addie Wyatt's contributions.
Moderated by VFA chair and NOW co-founder Muriel Fox, the panel also included stories about Caroline Davis and Dorothy Haener (UAW) and Catherine Conroy (CWA) also founding members of the National Organization for Women (NOW). Conroy, an activist from Wisconsin, had said that she often felt like she was "the token labor woman in the women's groups and the token feminist at the union meetings." Millie Jeffrey (UAW) was also honored.
Veteran Feminists of America is a volunteer group dedicated to preserving the history of "second wave" feminism, from the 1960s to 1975, including progress on reproductive rights, employment and education rights, and the equal rights amendment to the Constitution. The VFA conference, "Labor & the Women's Movement: The Untold Story and Why It Matters," was held in St. Louis Sept. 27th to celebrate the contributions of labor women and to chart a joint path forward.
As we will see, "first wave" feminism focused mainly on suffrage ending with the nineteenth amendment in 1920 securing women's right to vote. "Third wave" feminism" – which describes the movement's present form – is built on these legal and institutional rights, but focusing on intersections between racial, economic, LGBTQ and gender justice, while adding social media to the mix.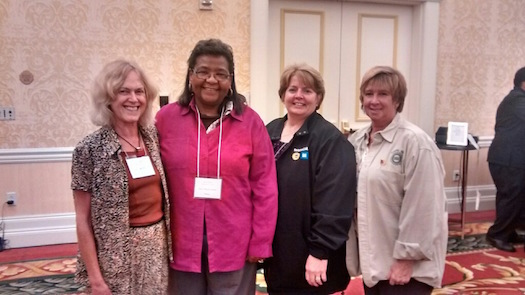 A number of union women were recognized by the Veteran Feminists of America for their outstanding work. Pictured from the left are CLUW members from the St. Louis Metro Chapter Marcia Cline, Alice Moore-Jones, Tina Hays and Carol Johnson. Not pictured is another CLUW winner, Linda Whitley. Award recipient also not pictured is Mary Bennett, CLUW member from the Chicago Chapter.
Historian Brigid O'Farrell Delivers Keynote
Keynote speaker Brigid O'Farrell, author of "Rocking the Boat: Union Women's Voices 1915-1975", set the scene by reminding the audience that the women's movement "has always featured voices of consensus and discord; common goals but different strategies and tactics— the vote, equal rights, protective laws."
"Union women…played different roles in the second wave of the women's movement," she said. "To say the movement was all elite white women is to silence the voices of working class women and women of color."
The President's Commission on the Status of Women
"For me, the touchstone for understanding labor and the women's movement during this period is President Kennedy's Commission on the Status of Women," she continued. "From the [Commission's] 'American Woman Report,' issued just over 50 years ago, we can look backward and forward to see the separate as well as the intertwining threads of the women's movement."
A key issue during the second wave - a divisive, but not new issue, she pointed out – was the Equal Rights Amendment, which was first introduced into Congress in 1923 led by Alice Paul and the National Woman's Party. The ERA would guarantee equal rights under the law for women in all areas of life.
"Union women," she noted, "led by Rose Schneiderman and the Women's Trade Union League, while having fought for suffrage, opposed the ERA, fearing that it would eliminate the hard-won protective labor laws for women in the lowest paying and most dangerous jobs." This division continued through the1960s.
When President Kennedy was elected in 1960, union women were ready. Led by Esther Peterson, an activist from the Amalgamated Clothing Workers, Assistant Secretary of Labor, and Director of the Women's Bureau, they proposed a commission. Peterson recruited former First Lady and union member Eleanor Roosevelt to chair the Commission and many union women joined the effort, including Caroline Davis, Dorothy Haener, Addie Wyatt, and Millie Jeffrey.
With the Commission's help, the Equal Pay Act passed in 1963, followed by the final report documenting discrimination in many areas with specific workplace recommendations including fair hiring practices, paid maternity leave, and affordable child care. A compromise on the ERA called for pursuing legal cases under the guarantee of equal protection in the Fourteenth Amendment.
The Birth of NOW and CLUW
The Commission efforts were soon overwhelmed by Title VII of the historic 1964 Civil Rights Act prohibiting discrimination in employment based on sex, as well as race, national origin, and religion. But the Commission also established a network of State Commissions bringing women together across the country. At the third national conference Betty Friedan, author of The Feminist Mystique, and a small number of union sisters, including Caroline Davis, Dorothy Haener and Catherine Conroy, expressed frustration with the slow progress for women and formed NOW.
O'Farrell noted that few people are aware that for the first year NOW was run out of the offices of the UAW in Detroit, but in 1968 when NOW voted to endorse the ERA, the UAW led other women out of the organization.
Over the next few years, protective labor laws were struck down under Title VII and in 1970 the UAW and several other unions passed resolutions supporting the ERA. The amendment soon passed both houses of Congress and was sent to the states for ratification. By 1973 the AFL-CIO supported it as well. In 2014, however, the amendment is still three states short of ratification.
During this period women's labor education was revitalized with four regional union women's summer schools. O'Farrell gave a special shout-out to the Berger-Marks Foundation, noting that today Berger-Marks helps fund these on-going women's leadership schools.
O'Farrell concluded that union women felt they needed their own organization. In 1974 more than 3,000 union women met in Chicago to form CLUW. Fifty unions and 40 states were represented; almost one-fourth of the participants were African American. Caroline Davis, Dorothy Haener, Addie Wyatt, Millie Jeffrey, and Catherine Conroy were all involved.
CLUW prides itself on being a bridge between the women's and labor movements and demonstrates leadership by speaking out on issues such as equal pay, raising the minimum wage, sexual abuse and discrimination in the workplace, health care and reproductive choice. This advocacy helps build CLUW's membership and brings young women into the labor movement. One such example is our outspoken support of contraceptive coverage. Carolyn Jacobson, CLUW activist and creator of the CLUW Contraceptive Equity Project spoke about this at the conference. A summary of her remarks can be found by clicking here.
Looking to the Future
Nationally acclaimed labor historian Alice Kessler-Harris, Professor of American History at Columbia University, gave an inspiring luncheon address outlining what she called "social justice" feminism. She called on all feminists to join together, not focused solely on women's equality, but rather that the time is right to achieve a more egalitarian society: ending poverty, corporate greed, and the inequality that is growing in our country today.
The afternoon panels were made up of veteran feminists and new young scholars and activists. On one panel Katherine Turk, University of North Carolina, presented research on the strengths and weaknesses of legal strategies under laws such as Title VII, followed by Missouri Appeals Court Judge Lisa Van Amburg sharing her story of living second wave feminism under Title VII.
The final panel discussion moderated by VFA Board member Heather Booth was a lively exchange among the audience and speakers such as Karen Nussbaum, Director of Working America, AFL-CIO, and co-founder of 9 to 5, and Sarita Gupta, Executive Director, Jobs With Justice. Carmen Berkley, just 29 years old and Director of Civil, Human and Women's Rights, AFL-CIO, reminded participants that the labor movement is the largest women's group in the U.S., with approximately six million women.
In the last session, Emily E. LaBarbera Twarog, University of Illinois, focused on how we can make progress in the future. She proposed that "running political candidates is one way we can make change…..I am talking about local community based campaigns," she said, citing recent victories in New Haven, Providence, Arizona and Chicago.
The amazing day ended with an awards dinner, featuring a young "third wave" feminist speaker, Maggie Ellinger-Locke, who eloquently explained why feminists needed to address the issues of race, most recently highlighted in the neighboring community of Ferguson. A number of union feminists (including CLUW members Marcia Cline, Alice Moore-Jones, Tina Hays and Carol Johnson and Linda Whitley) received VFA awards for their accomplishments on behalf of women's equality reflecting the words of Eleanor Roosevelt, "We can't just talk. We have got to act."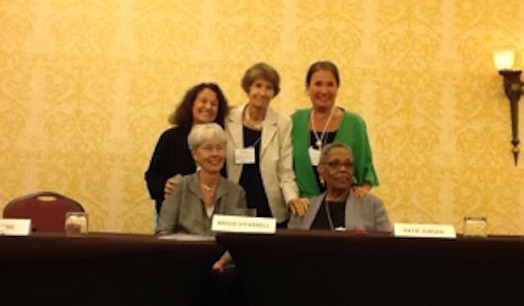 Key presenters are, front row, from the left: Brigid O'Farrell and CLUW Chicago Pres. Katie Jordan. Back row, from the left: VFA Activists Carol King, Sheila Tobias, Muriel Fox. Photo: Kathy Rand
Page Last Updated: Jul 06, 2015 (18:18:51)