Celebrating Women's History Month:
CLUW Honors the Memory of Founding Member Manny (Muriel) Tuteur
When former CLUW Executive Vice President Jean Hervey was asked to recollect Manny Tuteur (May 17, 1922 - February 3, 2016) she shared, " Manny was a beloved member of my union Amalgamated Clothing Workers of America (ACTWU), now Workers United. She will be remembered as a true champion for children and working women. She would always say to me, 'Stay with CLUW because this will be the organization that will fight for Women and Children'.
Manny spent a lifetime fighting for the rights of women and children, minorities and workers. Early in her career she worked in the steel mills as a milling machine operator in Chicago, a ship fitter in Vancouver, Washington during her service in the Women's Army Corp during World War II, a caseworker and pre-school teacher in Chicago. In 1969 she was hired by ACTWU to start the first union-sponsored day care center in the country which operated with her serving as its director from 1969-1983. She was president of CLUW's Chicago Chapter from 1978-1982, co-chair of the National Child Care Task Force and a member of the National Executive Board. She was recognized in 1982 with CLUW's Florence Criley Award, only one of the many recognitions she received throughout her life.
Katie Jordan, current president of the CLUW Chicago chapter and a member of Manny's union credits her along with CLUW President Emerita Joyce Miller for encouraging her to join CLUW. She said Manny was known all over Chicago for her advocacy of labor and women's issues and that she fought tirelessly to have Illinois become an Equal Rights Amendment state. She served as a mentor to Jan Schakowsky (US House of Representatives 9th District of Illinois) encouraging her to run for state office. "'Manny was really loved around here", Katie remarked.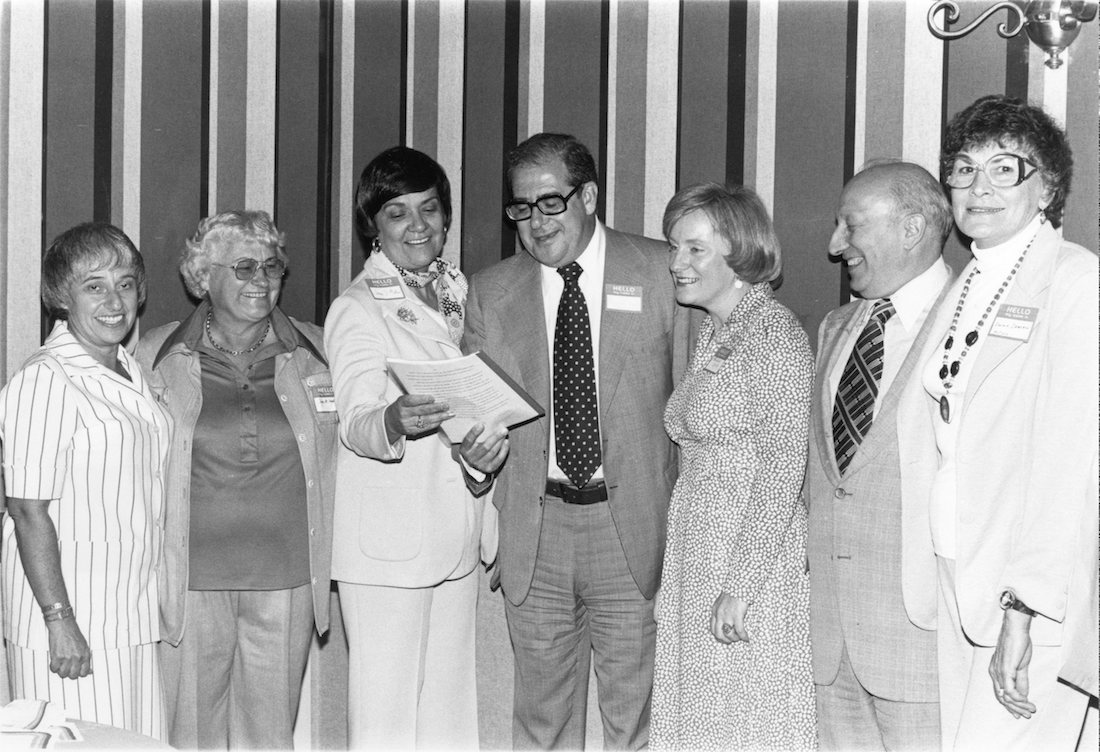 10th Anniversary CLUW Convention opened March 23rd, 1984 in Chicago with 1200 in attendance. L-r Manny Tuteur; President Emerita Olga Madar; President Joyce Miller; Murray Findley, President, ACTWU; Liz Smith, Legislative Director, Clothing Workers Union; William DuChessi, Secretary-Treasurer,Textile Workers Union of America (TWUA). Photo: Kheel Center, Cornell Univ. ACTWU Archives.
CLUW member Ann Hoffman recollects, "I got to know Manny over the years, probably before our unions (ACTWU, hers, and ILGWU, mine) merged in 1995 to form UNITE. We met at CLUW - and always saw eye to eye - being about the same height - not very tall. I always thought Manny was a giant of a woman - a labor activist, a political activist, a child care activist, a feminist activist. Her proudest moment, I think (other than everything about her family) was when, at the age of 84, she was arrested at a California shopping mall sitting in for a union cause. It was her first arrest and she loved it!"
Manny was one of 9 children. She graduated from the University of Chicago with a degree in Sociology in 1943. She was married to Charles Tuteur for 63 years. a German Jew who escaped to the U.S. a day before Hitler's Kristallnacht. During her service during World War II she received training at the Parachute Training School at Fort Benning, Georgia. In 1983 she was appointed Assistant Director of Education and Political Action for Chicago and Central States Joint Board of ACTWU where she worked to protect the rights of textile workers. For more details of her life please access the links below.
Son Peter Tuteur remembers, "Mom singing me this wonderful song about a horse with a Union Label. You can hear this on Youtube. She loved to listen to Pete Seeger, Ella Jenkins and other folksingers who chronicled the lives and struggles of working people. I've been a proud member of IATSE Local One in New York City since 1989 and certainly credit my Mom with instilling union values and showing me the benefits of belonging to an organization that looks out for the welfare of its members and the community as a whole…."
She is survived by her daughter Judith Stechert, her son Peter Tuteur and granddaughter Rebecca Tuteur. A memorial gathering will be held at The Regency Senior Living Community of Laguna Woods on Thursday, March 17th at 1pm. Interment with military honors will be the following day at Riverside National Cemetery, Riverside, CA.
Please see below for more information:
Muriel Tuteur Collection at the Reuther Library
CLUW takes pride in recognizing outstanding women who made our organization great and whose memory inspires younger members to continue that tradition. You'll be reading stories of some younger members throughout the month.
Page Last Updated: Mar 07, 2016 (09:18:26)